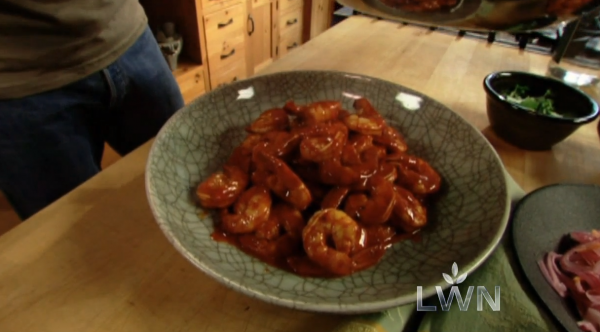 Recipe from Season 5, Mexico—One Plate at a Time
Ingredients
1/2

small package (3 1/2 ounces) prepared

achiote paste,

such as Yucateco, La Anita or Marin brand)

2

garlic cloves, peeled and roughly chopped

1/4

cup

fresh orange juice

1/4

cup

fresh lime juice

1

tablespoon

vinegar

Salt

1 1/4

pounds (about 24 pieces)

large shrimp, peeled, leaving tail and final segment intact

For the Onions:

1

large

red onion, thinly sliced

1

small

habanero chile,

stemmed, seeded and thinly sliced

1/4

cup

fresh lime juice

For finishing the dish:

3

tablespoons

olive or vegetable oil

Roughly chopped cilantro or parsley, for garnish
Instructions
Marinate the shrimp. Break the achiote paste into a blender jar and add the garlic, orange and lime juices, vinegar and 1/4 teaspoon salt. Blend until smooth. Pour over the shrimp, cover and refrigerate 30 minutes.
Prepare the onions. In a small bowl, combine the onion, habanero (or as much of it as you think you'll like), lime and 1 scant teaspoon salt. Cover and let stand until the shrimp is ready. (If working ahead, the onions may be stored in the refrigerator, covered, for several days.)
Cook the shrimp. In a very large (12-inch) skillet, heat the oil over medium-high. Using a slotted spoon, scoop the shrimp out of the marinade and into the hot oil, leaving behind as much marinade as possible. Stir-fry until the shrimp is just cooked through, about 3 minutes. Scoop onto a serving plate, pour all of the marinade into the skillet, and stir continuously until the mixture thickens, 2 to 3 minutes. Thin the sauce with a little water until it's the consistency of a cream sauce. Spoon the sauce over the shrimp. Sprinkle with chopped cilantro or parsley and serve with the pickled onions.