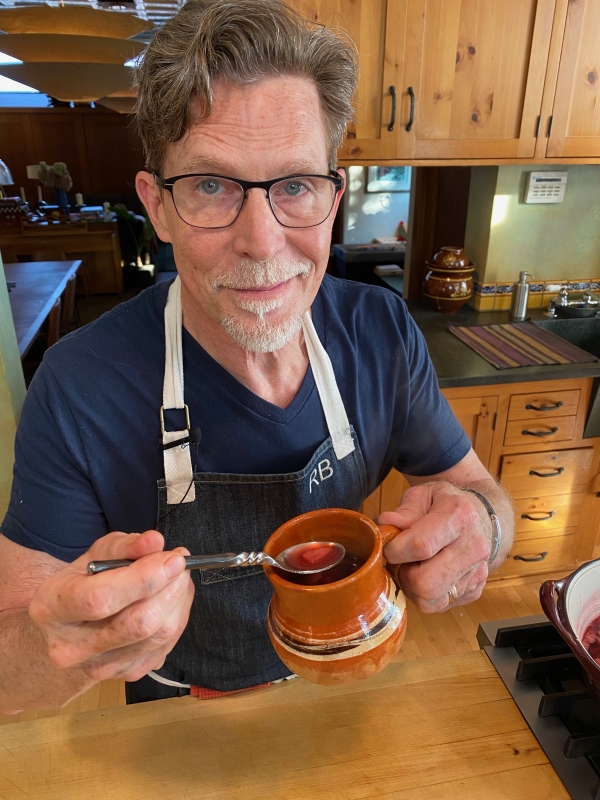 Servings:
8
cups, serving 8 generously
Ingredients
8

ounces (about 10)

tamarind pods OR ¾ cup tamarind paste (if you use the runnier tamarind puree, you'll need about twice this much)

1/3 cup

(a generous ½ ounce)

dried jamaica flowers

2

inches

Mexican cinnamon stick (canela)

2

quarts

boiling water

About 4

ounces (3 small cones, about 1/2 cup shaved)

light piloncillo cone sugar

1/2

cup

sugar (plus a little more if you think the ponche needs it)

8

ounces (10 to 12)

tejocotes (hawthorns—feel free to use fresh, defrosted frozen or jarred ones)

8

ounces (5 or 6)

guavas (fresh, defrosted frozen or jarred ones will work here), cut in half, seeds scooped out, shells cut into strips

2

apples, peeled, cored and cut into small pieces

A 15-ounce

piece

of fresh sugar cane, barky exterior cut away, flesh cut into 2-inch lengths, then each piece cut lengthwise in quarters (optional) OR 8 ounces (defrosted) frozen cleaned sugar cane pieces, cut lengthwise in quarters

1 1/4 to 1 1/2

cups

light rum (optional)
Instructions
Soak the tamarind and jamaica.  Peel the barky shells and fibrous strings off of the tamarind pods and place them in a large bowl.  Add the jamaica flowers, cinnamon and boiling water.  Let stand 30 minutes, until cool enough for you to put your hands in.  Using your hands, work the tamarind solids free from the seeds, then strain the whole thing into a large (4-quart) pan.  
Finish the ponche.  Add the piloncillo and sugar to the pan and bring to a simmer.  Stir until the piloncillo is dissolved, then add the tejocote, guavas, apples and optional sugar cane.  Let simmer over medium-low heat for 10 minutes or longer to blend the flavors.  Add the rum if you are using it and you're ready to ladle the mixture into mugs.