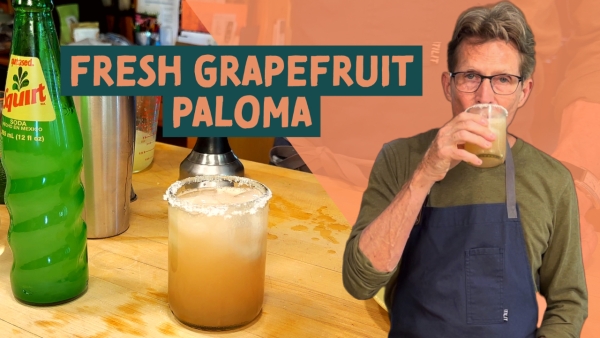 I drank palomas decades ago and didn't think anything of them-just squirt and tequila over ice in a salted-rim glass. There was certainly no reason to write a recipe. But that was before the paloma got a makeover and began being made with fresh grapefruit juice (not just grapefruit-flavored soda). This now-classic version is a thirst-quenching crowd-pleaser, especially during the warm months.
Ingredients
Kosher salt

Lime wedge

1/2

ounce

(1 tablespoon) simple syrup, homemade or store-bought

2

ounces

(1/4 cup) tequila (blanco is best here) or mezcal

1

ounce

(2 tablespoons) fresh grapefruit juice

1/2

ounce

(1 tablespoon) fresh lime juice

3

ounces

(a scant 1/3 cup) Squirt (or another grapefruit soda) or sparkling water
Instructions
Spread the salt on a small plate. Moisten the rim of a 10-ounce glass with the lime wedge and upend the glass onto the salt to crust the rim.
To a cocktail shaker, add the simple syrup, tequila or mezcal, grapefruit and lime juices, and 6 to 7 ice cubes. Shake for 10 to 15 seconds. Pour the drink into the salt-crusted glass, ice and all, and top with Squirt or one of its stand-ins.. (If you prefer, you can strain the mixture into the glass and add fresh ice cubes before topping with Squirt.)
To make simple syrup, in a small saucepan bring equal parts water and sugar to a boil, stirring or swirling the pan until all of the sugar is dissolved. Remove from the heat and cool. Store in the refrigerator. It will keep for a month or more.