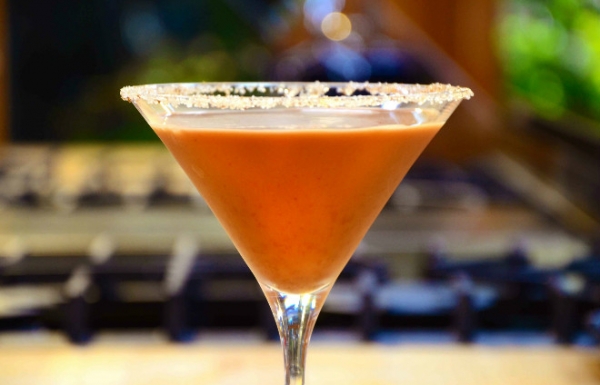 Ingredients
Sugar or cinnamon sugar (2 parts sugar mixed with 1 part ground cinnamon, preferably Mexican canela)

1 1/2

ounces

100% blue agave blanco tequila

1/2

ounce

crème de cacao liqueur

1/2

ounce

agave syrup (light organic syrup gives the best flavor)

1/2

ounce

best-quality chocolate sauce, store bought or homemade (recipe below), at room temperature

6 to 10 small ice cubes (about ¾ cup)
Instructions
Spread the sugar or cinnamon sugar on a small plate, moisten the rim of a 6-ounce martini glass with a wet paper towel, and upend the glass onto the sugar to crust the rim.
In a cocktail shaker, combine the tequila, crème de cacao, Agave Syrup and chocolate sauce.  Cover and shake 10 seconds to blend in the chocolate sauce.  Uncover, add the ice and shake vigorously until frothy and cold; tiny ice crystals will appear in the drink after about 15 seconds of shaking. Strain into the sugar-crusted glass and serve immediately.
Chocolate Sauce
Makes  1 ½ cups
 1 cup heavy cream
¼ cup agave syrup (light organic syrup gives the best flavor) or corn syrup
4 ounces bittersweet chocolate, chopped into small pieces
4 ounces Mexican chocolate, chopped into small pieces
¼ teaspoon ground cinnamon, preferably Mexican canela
2 teaspoons pure vanilla extract, preferably Mexican
In a medium (3-quart) saucepan, combine the heavy cream and agave syrup or corn syrup over medium heat.  Let come to a simmer, stirring occasionally.  Stir in chocolate and remove from heat.  Stir frequently until all the chocolate has melted.  Stir in cinnamon and vanilla, and cool.