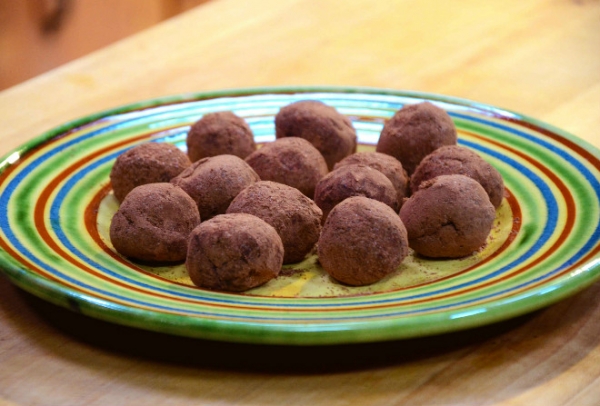 Servings:
18
Chocolate Candies
Ingredients
4

ounces

bittersweet chocolate, chopped into ½-inch pieces

4

ounces

Mexican chocolate,

chopped into ½-inch pieces

1/2

cup

whipping cream

1/2

cup

unsweetened cocoa powder

1/2

cup

sugar
Instructions
Place the chocolates in a food processor and pulse until finely chopped (it should look dusty, like cocoa.)  Measure the cream into a microwave-safe cup and microwave at 100% until steaming, about 1 minute. Turn on the food processor and slowly pour in the cream. Process until the chocolate is completely smooth, about 1 minute, then scrape it into a pie pan or similar dish and flatten it to about ¾ inch thick. Cover with plastic wrap and refrigerate until barely firm, 30 to 45 minutes.
            While the chocolate mixture is chilling, clean the food processor and measure in the cocoa powder and sugar. Pulse until the two are combined but you can still feel the grain of the sugar, and transfer to a large, flat plate.
Use a pair of small spoons or a small ice cream scoop to scoop out roughly-shaped balls of chocolate about ¾ inch in diameter (about 1 ½ teaspoons chocolate) and transfer them to a baking sheet. (Don't let balls touch—they'll stick together.)  Continue until all chocolate is used. One by one, roll each into balls, then roll in cocoa and sugar mixture to evenly coat. Store the truffles in a single layer in a sealed container in the refrigerator.  Let warm to room temperature before serving.