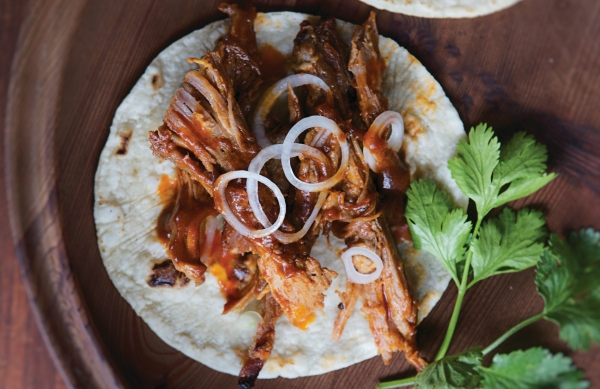 Ingredients
1

(about 4 pounds)

bone-in pork shoulder roast

1 1/4

cups

New Red Chile Adobo

(divided use)

1 1/2

tablespoons

vegetable oil, olive oil, bacon drippings or butter (each will add a different character to the sauce)

1

small

red or white onion (red will make the sauce sweeter), thinly sliced

1 15-ounce

can diced tomatoes in juice (preferably fire-roasted)

1

tablespoon

balsamic or sweet sherry vinegar

1/2

cup

agave nectar or sugar

2

tablespoons

Worcestershire

Salt
Instructions
Place the pork on a baking sheet, smear all over with the ¾ cup Quick Red Chile Adobo, cover with plastic and refrigerate overnight.
Light a gas grill, setting the temperature at medium on the side burners (off in the center); or light a charcoal fire, letting the coals burn until they're covered with gray ash and medium hot, then banking them to two sides. Lay the marinated pork in a V-shaped roasting rack set in a roasting pan. Pour 1 quart water into the roasting pan, set in the middle of the grill (the coolest part) and cover the grill. Cook, basting every ½ hour with the pan juices, at 275 to 300 degrees until the shoulder reaches 190 degrees at the thickest part, 4 to 4 ½ hours depending on how diligent you are in keeping a consistent temperature in your grill. (Live-fire cooks will need to add a couple of pieces of charcoal every 20 or 30 minutes to maintain temperature.)
While the pork is cooking, make the barbecue sauce.  In a medium (3-quart) saucepan set over medium, heat the oil, drippings or butter. When hot, add the onion and cook, stirring regularly, until it is soft and beginning to caramelize, about 7 minutes. Add the remaining ½ cup Adobo and stir for a minute, then add the tomatoes and 1 cup water. Lower the heat and simmer until the mixture has the consistency of tomato paste, about 20 minutes. Scrape the sauce into a blender or food processor and process until smooth. Pour the sauce back into the pan and stir in the vinegar, agave nectar or sugar, Worcestershire, a generous ¼ teaspoon salt and 1 cup water. Let the sauce simmer until it's the consistency of thick barbecue sauce, 30 to 40 minutes.
During the pork's final ½ hour of cooking, baste it several times with the barbecue sauce. When it's ready, transfer the pork to a cutting board, tent with foil and let it rest for about 30 minutes to reabsorb the juices. Reheat the barbecue sauce, thinning it out with some of the pork's pan juices or water, if necessary. Cut the shoulder into ½-inch slices, arrange on a warm serving platter and set before your guests, passing the sauce for them to add to their liking.