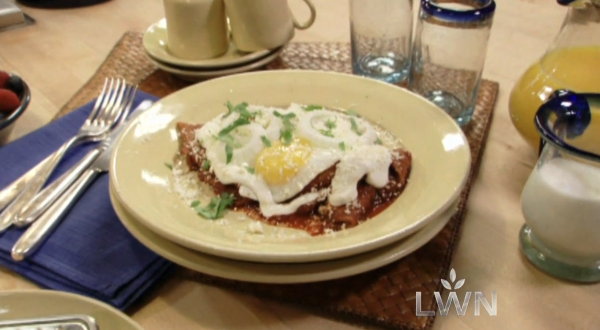 Recipe from Season 4, Mexico—One Plate at a Time
Ingredients
8

medium (2 ounces total)

dried guajillo chiles,

stemmed, seeded and torn into flat pieces

1

14.5-ounce

can diced tomatoes in juice (preferably fire-roasted), drained

4

large

garlic cloves, peeled and roughly chopped

2 1/2

tablespoons

vegetable oil (divided use)

3

cups

chicken broth

1/4

tsp

sugar

Salt

8

ounces (8 to 12 loosely packed cups, depending on thickness)

thick homemade-style corn tortilla chips (such as the ones you buy at a Mexican grocery)

4

eggs

1

small

white onion, thinly sliced

About 1/3

cup

Mexican crema,

créme fraiche or store-bought sour cream thinned out with a little milk

1/2

cup

Mexican queso añejo

or other dry grating cheese such as Romano or Parmesan
Instructions
Toast the chile pieces a few at a time in a dry heavy skillet or on a griddle heated over medium, pressing them flat against the hot surface with a metal spatula until they are aromatic, about 19 seconds per side. In a bowl, rehydrate the chiles for 20 minutes in hot tap water to cover; place a small place on the top to keep the chiles submerged.
Use a pair of tongs to transfer the rehydrated chiles to a food processor or blender. Measure in 1 cup of water, add the tomatoes and garlic and process to a smooth puree. Press through a medium-mesh sieve into a bowl.
Heat 1 1/2 tablespoons of the oil in a medium (4- to 5-quart) pot or Dutch oven or a large (12-inch) deep skillet over medium-high heat—you'll need a lid for whichever vessel you choose. When hot, add the chile puree and stir until nearly constantly until reduced to the consistency of tomato paste, about 7 minutes. Add the broth, partially cover and simmer over medium-low heat for 20 minutes. Season with sugar and salt, usually about 1 scant teaspoon. You should have about a generous 4 cups of brothy sauce.
Just before finishing the chilaquiles, heat the remaining 1 tablespoon of the oil in a large skillet over medium. Add the eggs and cook on one side just until set, sunny-side up.
Raise the heat under the seasoned sauce to medium-high. Stir in the chips, coating all of them well. Let return to a rolling boil, cover and turn off the heat. Let stand for 5 minutes (no longer).
Uncover the pot and check that the chips have softened nicely—they should be a little chewy, definitely not mushy. Spoon onto warm plates. Drizzle with the crema (or its stand-in), strew with the sliced onion and dust generously with the cheese. Transfer an egg to each portion and serve right away.