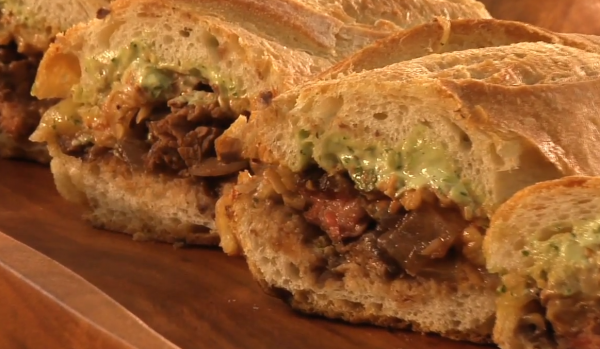 Recipe from Season 7, Mexico—One Plate at a Time
Servings:
8
2-24 Inch Tortas
Ingredients
1

medium

red onion, sliced into 1/4-inch thick rounds

A little vegetable oil

1

pound

skirt steak OR 1 pound (2 to 3) zucchinis, sliced lengthwise a little less than 1/2-inch thick

2

24-inch

baguettes

Chipotle Steak Sauce

Avocado-Cilantro Mayonnaise

8

ounces (about 2 cups)

shredded Mexican Chihuahua cheese or other melting cheese like Monterey Jack or mild cheddar
Instructions
Light a charcoal fire and let the coals burn until they are covered with grey ash and medium-hot; set the grill grate in place. Or heat a gas grill to medium. Brush both sides of the onion slices with a little oil, sprinkle with salt, then lay in a single layer on the grill (this is easiest to manage on a perforated grill pan). Grill, turning at least once, until richly browned and soft, about 10 minutes. Scoop onto a cutting board.
Brush both sides of the steak or zucchini slices with a little oil, sprinkle with salt and lay on the grill. Grill, turning at least once, until the steak is medium (or more well done if you like) or the zucchini tender, about 7 minutes. Transfer to the cutting board. Chop the onion and steak (or zucchini) into small pieces (about 1/2-inch is my preference). Scoop into a skillet and keep warm on the grill.
Cut the baguette in half, then split each half lengthwise. Scratch out most of the soft bread from the top and bottom. Smear the bottom pieces with beans and lay face-down on the grill to warm for a minute. Flip them over and spoon a portion of the filling into each piece. Splash about 1/4 of the chipotle sauce over the meat on each piece. Smear each top baguette piece with avocado mayo, then press in a portion of the cheese. Set each top piece over a bottom. Turn the tortas over the fire until the cheese is melted and the bread is crisp, usually about 8 minutes. Cut each half in half and serve to your lucky guests.