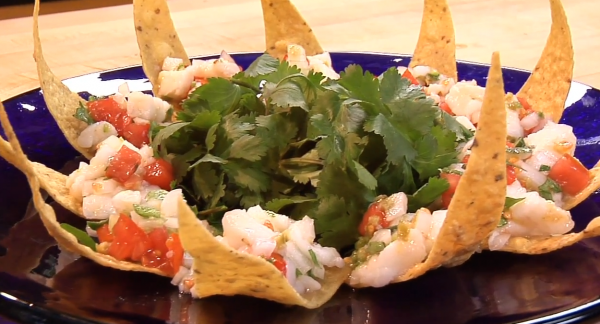 I never tire of this ceviche: the lilt of fresh-fresh fish infused with straight-ahead flavors of Mexican street food (lime, chiles, onion, cilantro) and finished to a consistency that's perfect for piling on tortilla chips or tostadas. That's my favorite way to eat ceviche, the sweet, toasty corn flavor of the crisp-fried corn tortilla being the perfect counterpoint to soft-textured brilliance of good ceviche. We've had this ceviche on the menu at Frontera Grill for over two decades. Recipe from Season 7, Mexico—One Plate at a Time
Servings:
6
to 8 as a starter
Ingredients
1

pound

"sashimi-quality" skinless meaty ocean fish fillet (halibut, snapper and bass are great choices), cut into 1/2-inch cubes

About 1 1/2

cups

fresh lime juice

1

small

white onion, chopped into 1/4-inch pieces

Hot green chiles

to taste (roughly 2 or 3 serranos or 1 large jalapeño), stemmed and roughly chopped

1/4

cup

green olives, preferably manzanillos

1

large (about 10-ounces)

ripe tomato, cored, seeded (if you wish) and cut into 1/4-inch pieces OR 1/4 cup (lightly packed, about 1 ounce) soft sundried tomatoes, chopped into 1/8-inch pieces

1/4

small

jicama,

peeled and chopped into 1/4-inch pieces (optional, but suggested if using sundried tomatoes)

1/4

cup

(loosely packed) chopped fresh cilantro (thick bottom stems cut off)

2

tablespoons

olive oil, preferably extra-virgin

Salt

1

teaspoon

sugar

About 16

ounces of

sturdy tortilla chips or 3- to 4-inch tostadas (preferably chips or tostadas from a local tortillería), for serving
Instructions
"Cook" the fish in the lime juice. In a large stainless steel or glass bowl, combine the fish, lime juice and onion. The fish should float freely in the juice; if not, add a little more. Cover and refrigerate until the fish is as "done" as you like: An hour or so for medium-rare, 3 to 4 hours for "cooked" all the way through. Tip off the lime juice—sad to say that it's fishy tasting at this point and can't be easily used for any other preparation.
Flavor the ceviche. In a mini food processor, process the green chile and olives until finely chopped (or finely chopped by hand). Add to the fish along with the tomato, optional jícama, cilantro and olive oil. Stir well, then season with salt (usually about a scant teaspoon) and sugar. Refrigerate until ready to serve—preferably no longer than an hour or two.

Working Ahead:  The fish can be marinated in lime and completely drained (even if you're going to add back some of the juice) early in the day you're going to serve; cover tightly and refrigerate.  All the vegetables and the cilantro can be prepped, mixed, covered and refrigerated early in the day, too.  Mix and season the ceviche within two hours of serving; keep it refrigerated until the last moment.
Fish & Shellfish
,
Starters, Snacks & Light Meals
,
Appetizer / Snack
,
Ceviche / Seafood Cocktail
,
Seafood
,
From Frontera Grill
,
Make-ahead
,
Traditional / Classic
,
Barbecue
,
Brunch
,
Christmas
,
Cinco de Mayo
,
Cocktail Party
,
Cold Weather
,
Dias de los Muertos
,
Dinner Party
,
Easter
,
Fall
,
Fourth of the July
,
Memorial Day
,
New Year's Eve
,
Spring
,
Summer
,
Warm Weather
,
Winter
,