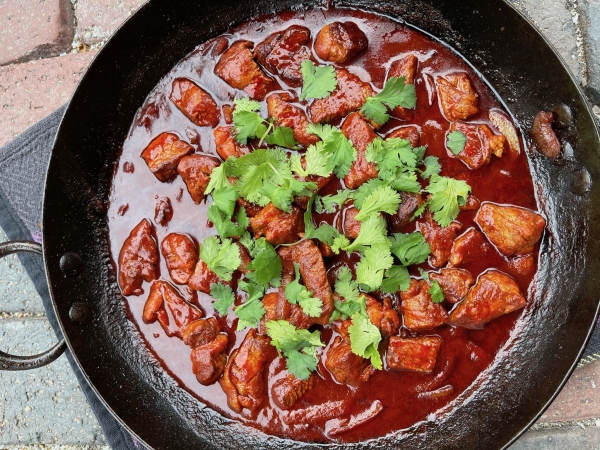 For me, this is one of Mexico's most iconic flavors. Nowhere else in the world makes a chile sauce like this—focused, balanced, pure rusty-red goodness with a gentle glowing heat. This is related to a northern Mexican dish called carne con chile colorado, though that dish uses the colorado chile (similar to New Mexican chiles), which has a less robust flavor. And here, I've enveloped seared cubes of steak in that beautiful sauce, rather than use less-tender cuts that need a long braise in it. The sweet crunch of the caramelized onion offers the perfect counterpoint to vibrant red chile and savory seared beef.
Ingredients
4

tablespoons

fresh-rendered pork lard, bacon drippings or vegetable oil, plus a little more if needed (divided use)

2 1/2

ounces

(about 10 medium) dried guajillo chiles, stemmed, seeded and torn into flat pieces

6

garlic cloves, peeled

1/2

teaspoon

ground cumin

1

teaspoon

dried Mexican oregano

2

cups

beef broth or water

Salt

A

little

sugar if needed

1 1/4 to 1 1/2

pounds

tender beef (from tenderloin, ribeye or New York strip on the high end to tri-tip sirloin, chuck steak, hanger or flatiron on the more affordable end), cut into 1-inch cubes

1

large

red onion, cut into ½-inch slices

A

big

handful of cilantro leaves, for garnish
Instructions
Make the sauce.  In a large (4-quart) saucepan, heat 2 tablespoons of the lard, drippings or oil over medium.  When hot, fry the chile pieces a small handful at a time, turning them nearly constantly with tongs or a slotted spoon as they toast and release their aroma. (It'll only take a few seconds. They'll lighten a little on the flesh side.  Too much toasting will give the sauce a bitter edge.)  Immediately remove to a bowl, leaving behind as much fat as possible.  When all are toasted, cover the chiles with hot tap water, weight with a plate to keep them submerged and rehydrate for 30 minutes.  
Meanwhile, with the pan back on medium heat, remove any chile seeds you see.  Add the garlic and cook, stirring regularly, until soft and lightly browned, about 3 minutes.  Remove it to a blender jar, again leaving behind as much fat as possible.  When the chiles are rehydrated, use tongs or a slotted spoon to remove them to the blender jar, and add 1 cup of their soaking liquid, as well as the cumin and oregano.  Blend until smooth.  Return the saucepan to medium-high heat, and, when hot, set a medium-mesh strainer over the pot and press the chile puree through.  Stir the strained chile puree for several minutes, until it darkens in color and reduces to a thick mixture the consistency of tomato paste.  Then add the broth or water, reduce the heat to medium-low and simmer for about 30 minutes for all the flavors to come together and the sauce to thicken slightly.  Taste and season with salt, usually about 1 teaspoon. If the sauce has more than a hint of bitterness, stir in a teaspoon or so of sugar to balance it.
Brown the meat. Dry the cubes of meat on paper towels, then sprinkle generously with salt.  Heat a very large (12-inch) heavy skillet over medium-high.  When hot, add the remaining 2 tablespoons of the lard or oil (enough to generously cover the bottom of the pan). Lay in the beef in an uncrowded layer (if it doesn't fit, brown the meat in two batches).  Cook undisturbed until richly browned underneath, about 1 minute, then turn the pieces over and brown the other side.  Use tongs or a slotted spoon to remove the meat to a plate, leaving behind as much fat as possible.    
Finish the dish.   Return the pan to medium heat and add the onion.  Cook, stirring regularly, until the onions are richly browned and softening, 8 to 10 minutes.  Add the sauce, bring to a boil, then add the meat.  Simmer over medium-low heat for a few minutes, just long enough to heat the meat (and cook it a little more, if it's too rare for you).  I like to serve these puntas with a big spoon of frijoles refritos and a shower of cilantro leaves.