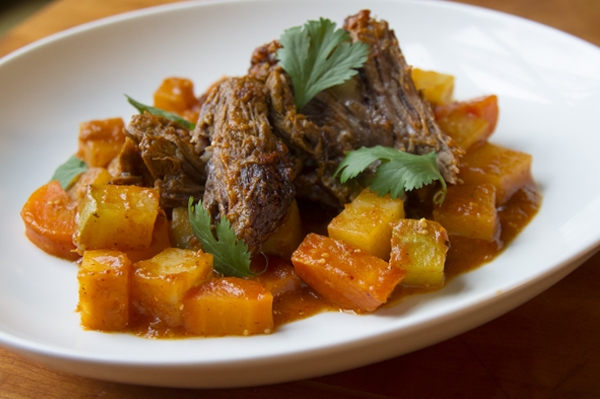 Ingredients
3

pound

boneless beef chuck roast, 2 1/2 to 3 inches thick (it'll cook best if tied into a compact shape)

1

tablespoon

vegetable or olive oil

4

medium carrots

, peeled and cut into 1/2-inch rounds

2

chayotes

, peeled (if you'd like), pitted and cut into 1/2-inch pieces

4

medium boiling potatoes

(like the red-skin ones), cut into 1/2-inch cubes

1/4

cup

finely chopped cilantro
Instructions
For the roast. In a shallow dish, smear the meat with the salsa, cover and refrigerate for several hours (the longer the better--up to 24 hours--to infuse the meat with the smoky flavor).
When you're ready to cook the meat, turn on the oven to 325 degrees. Scrape as much salsa as possible off the meat and reserve. Dry the meat on paper towels and sprinkle with salt. Heat the oil in a heavy, medium-size (4-quart) pot (preferably a Dutch oven) over medium-high; when hot, add the roast and brown on one side, about 5 minutes, then flip and brown the other side.
Remove the roast to a plate; pour 1 cup of water into the pot and boil over medium, scraping up the browned bits. Stir in the reserved salsa, then return the roast to the pan. Cover tightly and bake for 2 hours, until the meat is just tender.
Distribute the vegetables around the meat, stir to coat them with the pan juices; cover and continue cooking until the meat and vegetables are tender, 30 to 45 minutes.
Serving. Use two large metal spatulas (or meat forks) to transfer the roast to a large, warm serving platter. Scoop out the vegetables with a slotted spoon and distribute them around the meat. Skim off the fat from pan juices, and if necessary, boil them to reduce until lightly thickened; there should be about a cup. Taste and season with salt if necessary, then splash the sauce over the meat and vegetables. Sprinkle the whole dish with chopped cilantro and a bit of coarse salt, then carry straight to the table.
Advance Preparation: The salsa can certainly be made a day or two ahead, as can the whole dish, though the texture of everything is certainly best right out of the oven. If done ahead, refrigerate, covered, then rewarm in the oven adding a little water to the pan juices as they reheat, if they have thickened too much.
Variations and Improvisations: An equal-size pork shoulder roast or equal weight of chicken thighs can be substituted for the beef (chicken and vegetables can cook together--a total of about 40 or 45 minutes). Other cuts of beef to use include sirloin tip, rump, top round or eye of the round, almost all of which are leaner and will need to be very tightly covered to insure they won't dry out.