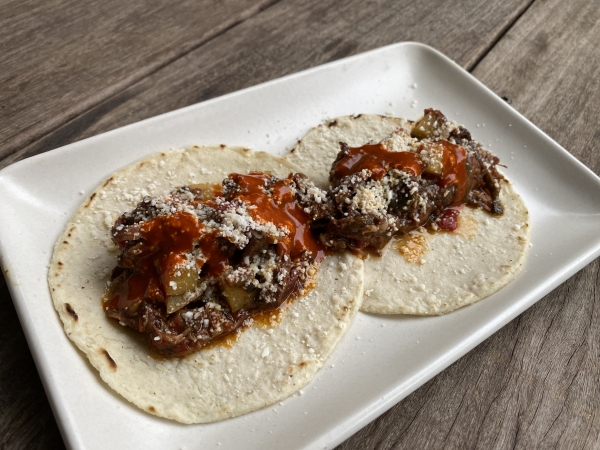 This is a happy-making recipe, one that seems to please just about everyone. This homey dish is everywhere through Mexico's northern states, but, honestly, can be found throughout the whole country: slow-cooked beef, a bit of tomato and potato, as much chile as you want. When it's cooking, folks stop by to ask when it's going to be ready. No one dallies when called to the table. It's popularity is the reason my approach to carne deshebrada is to make a lot (it's great for a party, plus it freezes well) and to make it easy. The ingredients are easy to find (and can feature beautiful chiles from the farmers market) and the cooking is unsupervised in a slow-cooker. The flavor is much richer when you brown the meat and roast the chiles, so that's what I've called for. And the potatoes have the best texture when they're added at the end.
Servings:
30
tacos, makes about 8 cups
Ingredients
8 ounces to 1 pound

fresh poblano chiles (3 large poblanos is about a pound) OR 8 ounces to 1 pound fresh Anaheim/New Mexico chiles (5 or 6 large Anaheims is about a pound) OR 8 ounces to 1 pound banana/Hungarian wax/güero/xcatic chiles (10 banana peppers)

salt

2

pounds

boneless beef chuck or boneless short rib, cut into 1-inch cubes is about a pound

2

tablespoons

vegetable oil or fresh-rendered pork lard or bacon drippings

2

white onions, sliced ¼-inch thick

1

28-ounce can

tomatoes, preferably fire-roasted, drained

2

tablespoons

Worcestershire

A small handful

of hierbas de olor (the Mexican fresh herb bundle that contains thyme, marjoram and bay)—lacking the fresh herbs, you can use a bay leaf or 2 plus ½ teaspoon of each dried herb

2 large

(1 pound) Yukon gold potatoes, peeled or not, cut into ¼-inch cubes

about 30 warm corn tortillas

About 1 ½

cups

Roasted Tomato Salsa

salsa (Roasted Tomato Salsa is my favorite, though practically any one—even Mexican hot sauce—is welcome here)

About 1

cup

grated Mexican queso añejo or other garnishing cheese like Parmesan or Romano
Instructions
Roast the chiles.  Over an open flame or close up under a broiler, roast the chiles, turning occasionally, until blackened all over.  Cool until handleable, then pull off the blackened skin, pull out or cut off the stem and pull out seed pod, then give the chiles a quick rinse to remove any stray seeds and bits of skin.  Cut the flesh into ½-inch squares.  
Brown the meat and onions.  If your slow-cooker has a stove top-safe insert, set it over medium-high heat.  Otherwise, set a very large (12-inch) skillet over medium-high.  Generously salt the meat on all sides.  Add the oil, lard or drippings to the pan, and, when hot, add the meat in a single layer. (If it won't fit in a single layer, brown the meat in 2 batches.)  Cook until richly browned on all sides, about 5 to 8 minutes.  Remove to a plate or rimmed baking sheet, leaving behind as much oil as possible, then add the onions.  Stir regularly until richly browned but still a little crunchy, about 8 minutes.  
Cook.  Add the meat back to the slow cooker insert and set on its base (or scrape the onions into your slow cooker and add the meat).  Stir in the chiles, tomatoes, Worcestershire, herbs and 2 teaspoons salt. Cover and cook for 6 hours on high. The mixture can hold for another 4 hours on the keep warm function.  (Some slow cookers flip to keep warm automatically, others will have to be switched manually.)  
Serve.  When you are ready to serve, scoop the diced potatoes into a microwave-safe bowl, measure in ¼ cup water, cover (if using plastic wrap, poke a couple of holes for steam to escape) and microwave on high for 4 minutes or until the potatoes are just barely tender.  Uncover (there will be very hot steam) and tip off the water.  
Use a large spoon or ladle to spoon off any fat that has rendered from the meat.  Fish out the herb sprigs and bay leaves.  Remove the insert from the slow cooker and set over medium-high heat (or transfer the mixture to a pot or large saucepan if the insert isn't stovetop safe).  As the mixture is coming to a boil, use an old-fashioned potato masher (or two large forks held back to back) to break up the meat into small pieces that will be perfect for making tacos. Stir in the potatoes. Boil rapidly until the juices are reduced and thick, about 10 to 12 minutes.  Taste and season with salt if more is necessary.   Scoop into a large serving bowl and set out with warm tortillas, salsa or hot sauce, and cheese for everyone to make tacos.