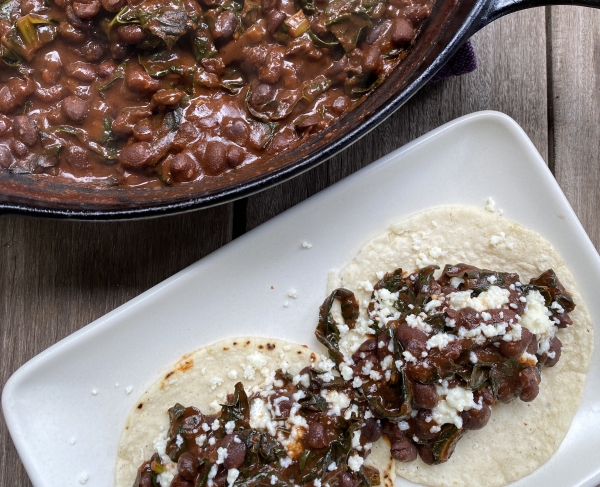 Servings:
4
cups, enough for 16 tacos
Ingredients
3

dried ancho chiles, stemmed, seeded and torn into flat pieces

2

garlic cloves, peeled and roughly chopped

1

teaspoon

Mexican oregano

1/2

teaspoon

black pepper

1/2

teaspoon

ground cumin

2

tablespoons

vegetable oil or fresh-rendered pork lard

Salt

2

15-ounce

cans black beans or 2 cups home-cooked black beans

8

loosely packed cups

(about 8 ounces) sliced greens- about 1/2 inch slices-lacinato/black kale, Swiss chard, spinach, wild lambs quarters, amaranth greens (quintoniles), full-grown spinach and the like

16

warm corn tortillas

About 3/4

cup

crumbled Mexican queso fresco or other fresh cheese like goat or mild feta
Instructions
Make the red chile sauce.   Heat a very large (12-inch) skillet over medium.  Lay the chile pieces in the hot pan, press them flat with a spatula and, when they release their aroma (and maybe a whisp of smoke), flip them over and press down to toast the other side.  Scoop into a bowl, cover with hot tap water, weight with a plate to keep them submerged and let rehydrate for 30 minutes. 
Drain, reserving the liquid.  Scoop the chiles into a blender or food processor with the garlic, oregano, black pepper and cumin. Taste the soaking liquid:  if it is very bitter, discard it and continue with fresh water.  Add ½ cup of the soaking liquid or water and blend to a smooth puree, adding a little more liquid if necessary to keep everything moving through the blades.  
Return the skillet to medium-high heat and add the oil or lard.  When hot, add the chile puree all at once.  Stir until the mixture is darker and nearly as thick as tomato paste, about 5 minutes.  Stir in 1 ½ cups soaking liquid or water and simmer 10 minutes for the flavors to come together.  Taste and season highly with salt, usually about 1 1/2 teaspoons.  If you detect a hint of bitterness, a little sugar will help balance that.
Finish the dish and make tacos.  Stir in the greens, cover (if you don't have a lid, use a baking sheet) and cook until the greens are tender, anywhere from a couple of minutes for spinach to 10 minutes for the kale.  Uncover, stir in the beans, simmer for a couple of minutes to warm them through, then taste and add more salt if you think necessary.  The mixture should be thick enough to hold its shape in a spoon, so it won't run out of the taco.
Make tacos with the beans-and-greens mixture, sprinkling each one with fresh cheese.