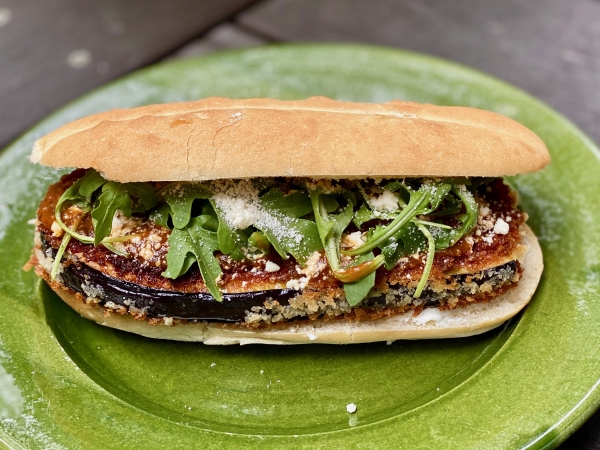 Ingredients
1

medium (about 1 pound)

globe eggplant

Salt

About 1/3

cup

flour

2

large

eggs

About 1

cup

panko or other coarse bread crumbs

About 1/2

cup

vegetable oil

4

telera rolls

French rolls or submarine sandwich rolls (about 6 inches long, 3 inches wide)

About 1/2

cup

fresh goat cheese

About 3/4

cup

Chipotle Salsa

About 1

cup

baby arugula

A

generous sprinkling

of Mexican queso añejo or other garnishing cheese like Parmesan or Romano
Instructions
Cut and (if time permits) salt the eggplant. Lay the eggplant on the counter in front of you, stem pointing away, and cut a slice off each side about ½ inch in.  Cut off the stem end.  Cut what's left lengthwise into 4 even slices—they will likely be about ½ inch wide.  In order to reduce moisture and possible bitterness in the eggplant, if time permits, salt it for a few minutes before breading and frying.  Sprinkle both sides of each slice with salt and let stand for about 20 minutes.  Pat dry on paper towels. 
Bread and fry the eggplant.  Set up the breading ingredients:  spread the flour on a plate, crack the eggs in a wide, flat bowl and whisk in ½ teaspoon salt, spread the breadcrumbs on another plate.  One at a time, dredge the eggplant slices on all sides with flour, dip all sides in the egg mixture, then lay in the breadcrumbs, pressing the crumbs all over the eggplant to coat it evenly.  Lay the finished eggplant on a baking sheet in a single layer.
Fry the eggplant and make the tortas.  Pour the oil into a very large (12-inch) skillet and set over medium-high heat.  (If you don't have such a large skillet, you can fry the eggplant slices in a smaller skillet in batches.) While the oil is heating, turn on the oven to 300 degrees and slide in the teleras to crisp.  When the oil is hot enough to make an edge of an eggplant slice sizzle sharply, carefully lay them into the hot oil in a single layer.  Adjust the heat so that they fry vigorously, but don't brown too quickly—it should take about 3 minutes to brown the bottom.  Use a spatula to carefully flip them over and cook the other side to a rich golden, about another 3 minutes. Drain on paper towels.  Slice open the crisp teleras, smear the goat cheese on the bottom, lay in the golden eggplant, spoon on a portion of the salsa, top with the arugula and queso añejo (if using), and set the top in place.  You're ready to eat.