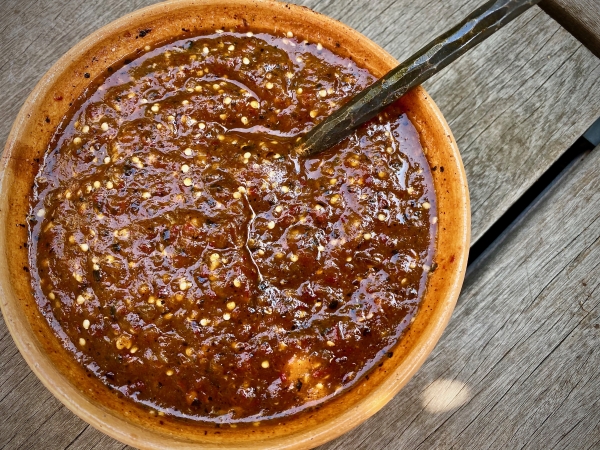 One of the most classic salsas in Mexico, this blend of smoky-spicy chipotle and roasted tomatillos (plus, of course, roasted garlic and onion) is everyone's favorite. On season 7 of Mexico: One Plate at a Time I made this with the dried red chipotles (AKA chile morita). If that's what you're using, you'll need 1/3 to 1/2 ounce (3 to 5 good-size chiles). Stem them, then toast them in a dry skillet until they release their aroma (30 to 45 seconds), collect in a small bowl and cover with hot tap water. After about 30 minutes, they'll be soft enough to use in this recipe.
Ingredients
12

ounces (4 to 6)

tomatillos, husked and rinsed

4

garlic cloves, unpeeled

1/2

medium

onion, sliced 1/2-inch thick

2-3

canned chipotle chile en adobo

, plus some of their canning liquid

Salt

A

pinch

of sugar if you think the salsa needs it
Instructions
Roast ingredients. Spread the tomatillos, unpeeled garlic and onion on a rimmed baking sheet and roast about 4 inches below a hot broiler (my toaster oven is perfect for this) until the tomatillos and onion are blotchy brown on one side, about 6 minutes, then turn everything over and roast the other side.  The garlic should feel soft. 
Chop onion, blend salsa. Cool everything to room temperature, set the roasted onion on a cutting board and chop it into small pieces.  Peel the garlic, then scrape the tomatillos (including any juices) and garlic into a blender or food processor, along with the chipotle chiles.  Spoon in about a tablespoon of the canning liquid, cover and pulse until the mixture is a coarse puree that looks attractive to you.  If the color is more brown than rusty-reddish, add another chile (that will make it quite spicy) or another spoonful of the canning liquid.  
Add onion and season. Scrape into a salsa dish and stir in the chopped onion. Add water a tablespoon at a time until the salsa is an easily spoonable consistency.  Taste and season with salt, usually about a generous ½ teaspoon.  I think a pinch of sugar balances the heat and brings out the red chile flavor.  
Playing around: You can make the salsa simpler by eliminating the roasted onion.  Or you can make it more complex by adding other dried red chiles (the canned chipotles were dried before they were canned.  Arbol and pulla will make the salsa considerably hotter, cascabel are delicious and nutty, guajillo are bright but not very hot.  Any of them will need to be lightly toasted (stems and seeds removed) in an ungreased skillet until aromatic, then soaked to soften for 20 or 30 minutes. Blend them with the garlic and half the tomatillos until smooth—this will take a minute or two because of the tough chile skins.  Add the rest of the tomatillos, pulse to a coarse puree, then continue on.  We make gallons of this salsa every day at Frontera with morita chiles (a type of chipotle), cascabel and guajillo chiles.