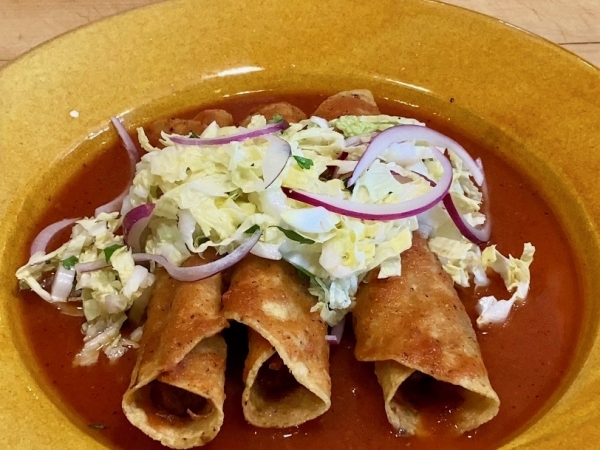 Ingredients
For the Sauce

4

garlic cloves, peeled

2

serrano chiles, stemmed and roughly chopped

One

15-ounce can

fire-roasted tomatoes, undrained

1 1/2

cups

chicken or vegetable stock

Salt

For the Garnish

2

cups

thinly sliced cabbage (I greatly prefer Napa or savoy cabbage)

1/2

small

red onion, thinly sliced

2

tablespoons

vinegar (a fruit vinegar like apple cider vinegar is common in Mexico)

About 2/3

cup

chopped cilantro (divided use)

For the Taquitos

3

cups (about 1 pound)

coarsely shredded poached or grilled chicken, carnitas (or other slow-cooked pork) or braised beef (like pot roast)

12

corn tortillas (preferably thin ones designed for frying)

Oil

frying to a depth of about ½ inch, plus more for the tortillas
Instructions
Make the sauce. Scoop the garlic and chiles into a small microwaveable dish, cover with water and microwave at 100% power for 1 minute.  Drain and transfer to a blender or food processor, along with the tomatoes and their juice.  Blend to a smooth puree, then pour into a small saucepan and stir in the broth.  bring to a boil over medium heat. Taste and season with salt, usually a scant teaspoon.  Cover and keep warm over low heat.  
Make the garnish.  In a medium bowl, mix together the cabbage, red onion and vinegar. Taste and season with salt, usually about 1/2 teaspoon.  Set aside the chopped cilantro to add just before serving and to add to the taquito filling.  
Roll the taquitos.  In a bowl, mix together the meat and half of the cilantro.  Taste and season with salt if needed.  Liberally brush or spray both sides of the tortillas with oil, slide into a plastic bag (don't seal) and microwave for 1 minute.  Slide the hot tortillas out of the bag and, when just cool enough to handle, one by one fill and roll the tortillas: with the tortillas still in a stack, scoop about ¼ cup filling down the center and roll it up tightly.  Lay it on a tray or plate, seam-side down, and continue with all the rest. I find it easiest to fry these if they're skewered: Rolling the taquitos on their side, skewer 6 of them, flap to flap, on a bamboo skewer. Break off the skewer so that it doesn't protrude more than ½ inch beyond the taquitos.  
Fry the taquitos. In a large skillet, heat the oil over medium-high.  When it is shimmering, test a corner of a taquito in it:  If the taquito sizzles strongly, the oil is hot enough.  Lay the taquitos in the oil (flap-side down if you didn't skewer them) and fry until crisp and golden underneath, usually about 2 minutes, then carefully flip them over and fry the other side.  Drain on paper towels.   
Serve the taquitos. Mix the cabbage mixture with the remaining half of the cilantro.  Divide the taquitos between 4 deep plates.  Ladle on a portion of the broth and top with a portion of the cabbage.  You're ready to serve.