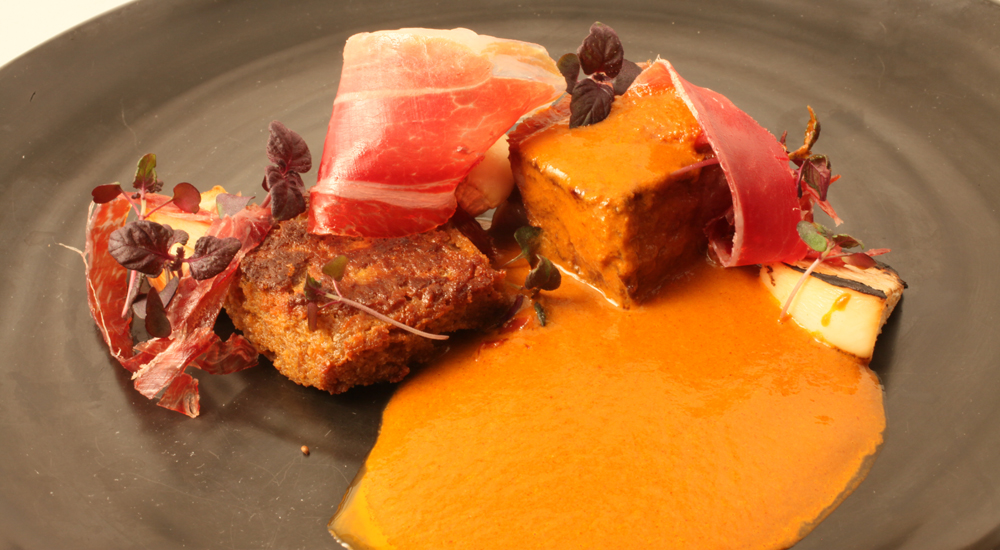 Back in February, the Chicago Tribune's restaurant critic, Phil Vettel, stopped by Topolobampo to try our Mexico City, 1491 menu. He called it "astonishing," and we were stoked.
Nobody expected he would keep on coming back to Topolo in the weeks following that piece, but apparently he did, and today he's out with a new review not just of our historical menus but of the restaurant as a whole. This time, he uses words like "mind-blowing," "triumph," "remarkable," "absolutely pristine" and "soul-nurturing," and he awards the restaurant four stars—the highest rating he can give.
"The cooking is at the highest level that I've ever seen," he writes in the review. "Topolo continues to strive, and to amaze."
He points to our oysters and calls them "wonderful." Of our ceviche trio, he says it's "pure communal joy." He writes that "you can't go wrong" with our lamb in pumpkin mole, and that chef de cuisine Andres Padilla's "must-try" dish is the pork in clemole (part of our Mexico City, 1671 menu). He says that all of Jennifer Jones's desserts are "superb," all of Jill Gubesch's wine pairings are "pinpoint-perfect" and "the all-smiles, quietly assured front-room staff gives diners the confidence to immerse themselves in the experience."
"In Rick we trust," he writes. (Read the review in its entirety below.)
Needless to say, we are overwhelmed by his kind words. And as with any press, we are grateful that Mr. Vettel has taken the time to tell our story. Most of all, we're proud of our hard-working staff at Topolo. We're proud of them every day, of course—but today, we're breaking out the tequila.
25 is the new brilliant at Topolobampo
Chicago's best Mexican restaurant can still astonish. By Phil Vettel
Topolobampo is approaching its 25th birthday (toward the end of the year) looking very much like a restaurant gearing up for 25 more.
It's not just that the cooking is at the highest level that I've ever seen, although that's certainly the case. Chef de Cuisine Andres Padilla, who has been running Topolobampo's kitchen for three years, routinely turns out one memorable plate after another, triumphs of technique and scholarship that stimulate the mind as much as they do the palate.
But there's a vibrancy to the dining room as well; the space is colorful and soothing at once, the music restrained yet infectious, and I could look at the art on the wall all day long. The all-smiles, quietly assured front-room staff gives diners the confidence to immerse themselves in the experience. Order a margarita, which will be hand-shaken and poured before your eyes, and you can feel yourself letting go. In Rick we trust.
Rick, of course, refers to chef/owner Rick Bayless, who has won just about every culinary recognition that matters. He and his wife, Deann, opened Frontera Grill in 1987 and changed Chicago's dining scene forever. Two years later, with Frontera still playing to overflow crowds, they followed up with Topolobampo — a smaller, more upscale room that, unlike Frontera, accepted small-party reservations.
People naturally view Topolobampo as Frontera Grill's younger, albeit more sophisticated, little sister. But in a different world, Frontera might have been the younger sibling.
"That was the place we wanted to create (in 1987)," Bayless says of Topolobampo. "But we realized that starting at that level, with no track record, would have been really hard — unfathomable, really. So we started with Frontera as a midlevel restaurant — but really it was above that, considering what Mexican restaurants were like then."
A quarter-century later, Frontera Grill remains very much above the midlevel, the standard by which Mexican restaurants are measured. And Topolobampo — well, Topolobampo continues to strive, and to amaze.
Ten weeks ago, I wrote about Topolobampo's mind-blowing "1491" menu, in which every dish consisted solely of pre-Columbian ingredients (which meant no limes, cilantro, wheat and a host of other items). That remarkable effort has been replaced with a "Mexico City 1671" menu that re-creates the "collision cuisine" of indigenous Mexican ingredients and Spanish cooking style. And every eight weeks or so, Bayless will unveil a new seven-course, themed menu.
The regular menu, if one can even call it that, consists of eight flavor-profile categories (six savory, two sweet) among which are scattered 24 medium-plate dishes. Select any three for $55, five for $90 or seven for $120.
Me, I like the unofficial six-course option, wherein the meal starts with one of the menu's three a la carte, shareable appetizers. People don't always think of Frontera/Topolo as a destination for oysters, but the oysters here are absolutely pristine, and the sauces — a "minoneta" of tomatillo and habanero, and chipotle-garlic salsa — are wonderful. And the Trio, Trio, Trio — a sampling of classic ceviche, shrimp-calamari ceviche with sour-orange and habanero, and sushi-grade tuna cocktail with avocado, tomatillo, mango and lime — is pure communal joy. (The third appetizer, the grand seafood platter, is a combination of the previous options.)
After that, your choices can be as adventurous as you are. You can choose very conservatively and still be delighted, beginning with the soul-nurturing sopa Azteca (rich with pasilla, chicken, avocado and cheese), moving on to carne asada (made with 28-day aged prime rib-eye and a 29-ingredient mole negro, this is carne asada as you've never had it before) and ending with pastry chef Jennifer Jones' cajeta (goat-milk caramel) crepes with plantains, bittersweet chocolate and caramelized plantain ice cream.
But the joy of dining at Topolobampo is reveling in the dishes that no other restaurant attempts. More intriguing treats are available in the form of raw scallops in a lime-habanero broth (the habanero's fiery character judiciously muted), topped with red wakame seaweed, slivers of salt-cured cactus petals and tiny lime bits; and rock-hen breast rolled around pork picadillo and smothered in a tomato sauce alive with toasted sweet spices (clove, cinnamon, star anise). A gorgeous quail tartlet practically overflows with pieces of smoked quail, grilled artichoke and roasted chayote, tied together with a bechamel-based sauce flavored with poblano and epazote.
Among the robust dishes, you can't go wrong with lamb. On one visit, the menu featured roasted leg in a tangy-sweet ancho-tamarind-honey sauce, with some bone-marrow-infused parsnip puree. Currently, the feature is porchetta-style lamb in pumpkin mole, a beautiful pink roulade dressed with leaves of red-vein sorrel.
The must-try dish is the pork in clemole sauce, and not just because, as part of the 1671 menu, it will be available only for another month or so. The complex plate includes roasted pork shoulder and slices of pata negra Iberico ham, along with pieces of charred turnip and savory bread pudding. Pulling the elements together is the clemole, a luxurious, bread-thickened sauce made with red chilies, pine nuts, hazelnuts and pecans. It's really a magical dish.
And while Jones' desserts are all superb (I'm still jonesing, forgive the pun, for the chocolate cake from the 1491 menu), I have to make special mention of the pretty, free-form rice-flour cake, layered with sweet plantains, brandied caramel, plantain pudding and — a terrific surprise element — crunchy, coriander-flavored crumbles.
Topolobampo has a stellar wine list, as well as course-by-course wine pairings selected by sommelier Jill Gubesch; her matches are so pinpoint-perfect (the oloroso sherry she paired with the smoked-quail tartaleta was particularly enjoyable) I'd advise diners to take that route.
Lunch, available Tuesday through Friday, features a lighter, a la carte menu, though some stalwarts from the dinner menu (ceviche trio, carne asada and halibut in three-chili mole de olla) are available. The "Topolo in 60," three courses for $25, is designed for business lunchers on limited time.
When people ask what makes Chicago's dining scene so special, Topolobampo is one of the restaurants I point to. No other city has a restaurant quite like it. Sometimes I forget how good this place is; today is not one of those times.