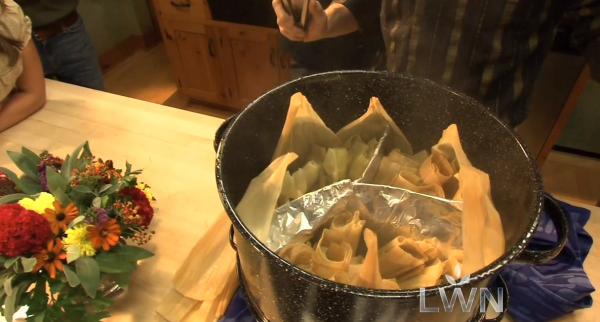 Recipe from Season 6, Mexico—One Plate at a Time
Servings:
14
medium-sized tamales
Ingredients
2

large ears fresh sweet corn in their husks

1

pound (about 2 cups)

fresh masa for tamales, OR about 1 3/4 cups masa harina for tamales mixed with 1 cup plus 2 tablespoons hot water, then allowed to cool

1

stick (4 ounces)

unsalted butter, cut into 1/2-inch bits and slightly softened

2

tablespoons

sugar

1/2

teaspoon

salt

1 1/2

teaspoons

baking powder

1

poblano chile,

roasted, peeled and sliced

6

ounces

melting cheese like Chihuahua, Monterey Jack or mild cheddar, cut into 3-inch sticks.
Instructions
The corn and husks. With a large knife, cut through the ears of corn just above where the cob joins the stalk. Carefully remove the husks without tearing, wrap in plastic and set aside. Pull of the corn silk and discard. Slice off the corn kernels and place in the bowl of a food processor. Process the corn to a medium-coarse puree.
The dough. Add the fresh or substitute masa to the corn, along with the butter, sugar, salt and baking powder. Pulse the processor several times, then let it run for 1 minute, until the mixture is light and homogeneous.
Form and steam the tamales. Set up a small steamer and line it with the smallest husks. Then use the batter to form 12 tamales (it will take about 3 tablespoons batter) filled with several strips of poblano chile and a stick of cheese and wrapped in the largest of the fresh husks (or use 2 overlapping husks if small). Set the tamales in the husk-lined steamer, top with additional husks, cover and steam for 1 to 1 1/2 hours, until the tamales come free from the husks.
For details on forming and steaming tamales, see recipe for Basic Tamales.