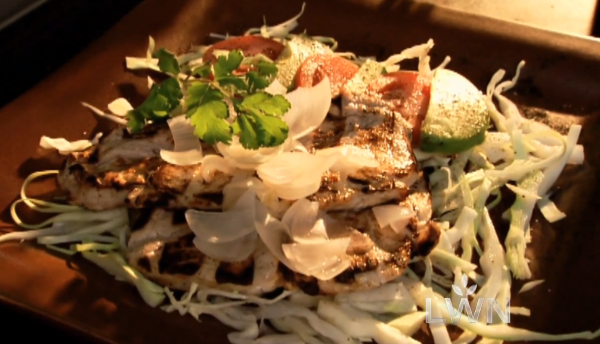 Where I grew up, you could get chicken-fried steak in practically any restaurant or diner. A few were good, really good, the stuff dreams are made of; but most were just food, better not remembered. If I were from Yucatan, I would be writing that about the ubiquitous poc chuc. There are various versions, from saucy to plain, but until I tasted the one at El Príncipe Tutul Xiu in Mani, I never thought the dish more than an example of the utterly simple side of Mexican cooking, food to fill your stomach.   Still, even the best poc chuc is the simplest of dishes, and you need all the parts in place or you won't hear the band: you need the charcoal fire, the grill-roasted onions, the sharp marinade for the pork, the plateful of lightly seasoned vegetables and the explosive dribble of roasted habanero salsa.
Ingredients
2

medium

white onions, unpeeled

1 1/2

pounds

well-trimmed, thin-cut, boneless pork steaks, cut from the shoulder or leg OR 1 1/2 pounds thin-cut, boneless pork chops

3/4

cup fresh

sour orange juice, plus a little more if needed OR OR a generous 1/2 cup fresh lime juice, plus a little more if needed

Salt and freshly ground black pepper, for seasoning the meat and vegetables

3

cups

thinly sliced cabbage

1/3

cup roughly chopped

cilantro, plus a few sprigs for garnish

1

pound (2 medium-large round)

ripe tomatoes,

cored and sliced 1/4-inch thick

1

large

avocado,

peeled, pitted and sliced 1/4-inch thick
Instructions
Light a charcoal fire and let it burn until all the coals are medium- hot and covered with gray ash. Nestle the onions directly in the coals and let them roast until charred on the outside and soft within, about 20 minutes.
While the onions are roasting, pound the meat with a flat mallet to about 1/8-inch thick. Drizzle with 1/4 cup of the sour orange (or 3 tablespoons lime) juice, cover and set aside. Cool the onions until handleable, peel the charred outer layers off, then cut what remains into 1/2-inch squares. Toss with 1/4 cup of the sour orange (or about 3 tablespoons lime) juice and season with salt and pepper. Toss the cabbage with the cilantro and the remaining 1/4 cup of the sour orange (or 3 tablespoons lime) juice; season with salt and pepper. Spread onto a large serving platter about 14-inches or so in diameter. Decorate the perimeter with alternating slices of tomato and avocado, and sprinkle them with salt and pepper.
Stoke your fire with new charcoal and let it get really hot. Sprinkle both sides of the meat generously with salt and pepper. Working with a couple of pieces at a time, grill the pork: let it sear about 2 minutes on one side, then flip it over and sear on the other. (The total cooking time for 1/8-inch pork steaks over a very hot fire will be no more than 3 or 4 minutes.) Lay the meat slightly overlapping down the center of the platter and strew the onions over the meat. Decorate with a few cilantro sprigs and serve without delay, accompanied by salsa and baskets of hot tortillas.
Variations and Improvisations
This simple dish could easily be made with butterflied, pounded, boneless, skinless chicken breasts or with skirt steak. If you like spicy food and want more flavor in the marinade, smear a little habanero salsa over the meat in place of the sour orange.