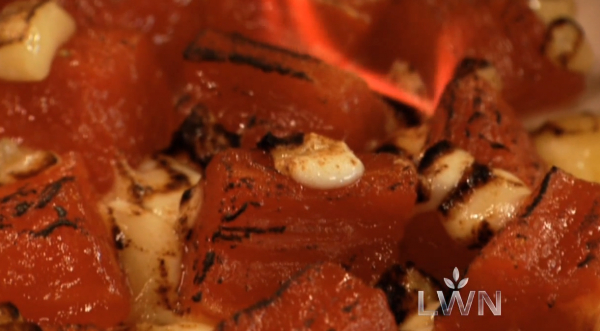 Recipe from Season 5, Mexico—One Plate at a Time
Ingredients
1

medium (about 3 1/2 pounds total)

Mexican papaya, peeled, seeded and cut into 1 1/2-inch cubes

3 1/2

cups

sugar

1/2

teaspoon

salt

2

tablespoon

lime juice

1

2-inch

cinnamon stick,

preferably Mexican canela

1

fig leaf, if available

6

ounces

cheese—you can use Chihuahua cheese or Mexican fresh cheese (queso fresco), though real Dutch Edam cheese is frequently used in Yucatan, cut into 1/4-inch pieces
Instructions
Place the papaya in a single layer in a very large (12-inch) saute pan or Dutch oven. Add the sugar and salt, then dribble in the lime juice and enough water to barely cover the papaya. Nestle in the cinnamon stick and fig leaf (if you have it), bring to a simmer, then cook very gently, partially covered, until the papaya starts to look translucent, about 2 hours.
Heat a broiler and position the oven rack as close to the heat as possible; or set out a kitchen blow torch.
Set a cooling rack over a baking sheet. With a slotted spoon, transfer the papaya to the rack and let stand for an hour or so, until beginning to dry on the surface. Arrange papaya in a single layer in a gratin or baking dish. Sprinkled the cheese over the papaya. Shake the pan gently to nestle the cheese in and around the papaya, then set under the broiler or broil with the blow torch until the sugar is richly caramelized and the cheese is softening. Serve right away.