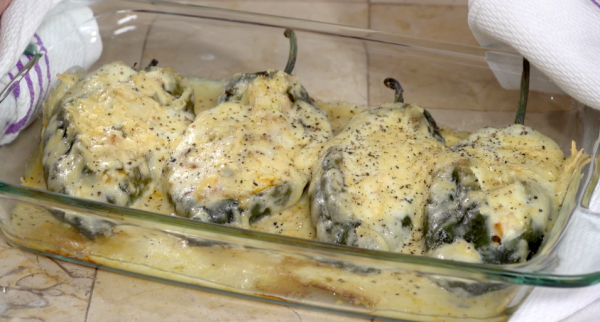 Ingredients
4

large

fresh poblano chiles

1

tablespoon

olive oil

1/2

large

red onion

3-4

garlic cloves, peeled and finely chopped

1

large or 2 medium

tatume squash, diced

4

ounces

fully cooked, smoked longaniza sausage, peeled and diced OR ¾ cup cooked chorizo sausage

1

large

plantain, peeled and diced

2 1/2

cups

queso de bolla, coarsely grated (divided use)

1

cup

crema

Black pepper
Instructions
Roast the chiles. Roast the poblanos directly over an open flame or 4 inches below a broiler, turning regularly until blistered and blackened all over, about 5 minutes for a flame, about 10 minutes for the broiler. Cover with a kitchen towel and cool until handleable. Rub off the blackened skin, then make a slit in the side of chile. Pull out the stem and seed pod.  Briefly rinse to remove any stray seeds or bits of skin. Place in a 13-by-9 baking dish.
For the filling Preheat the oven to 375 degrees. Film a large (10-inch) skillet with the oil and set over medium-high.  Add in the red onion, garlic, squash and sausage to the skillet and cook for about 7-10 minutes. Add plantains and cook for five minutes more.  Stir in 1 ½ cups of the cheese and remove from heat. Let the mixture cool slightly.
Stuff the mixture into the chiles, using your hands to reshape the chiles. Spoon 1/4 cup of the crema over each chile, then sprinkle each with ¼ cup of cheese.
Finishing the dish Place pan into oven, roasting until the tops of the stuffed chiles are golden brown, about 20 minutes. Serve sprinkled with black pepper for garnish.