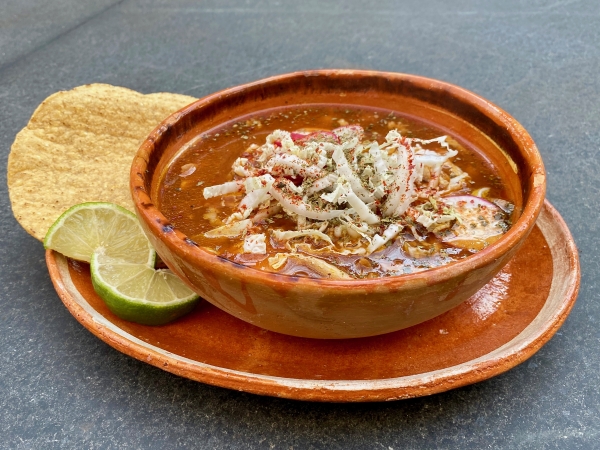 Servings:
4
quarts, serving 6 to 8
Ingredients
For the Pozole

2

dried ancho chiles,

stemmed and seeded

4

dried guajillo chiles,

stemmed and seeded

Salt

1

pound (about 2 1/2 cups)

fresh or frozen nixtamal corn, rinsed OR ¾ pound (2 cups) American Southwestern dried pozole corn

2

small

pigs feet (about 1 ½ pounds)

A 2 1/2

pound

bone-in pork shoulder roast

1

large (8-ounce)

white onion, cut into ¼-inch pieces

6

garlic cloves, pretty finely chopped

For the Garnishes

3

cups

thinly sliced cabbage (I prefer savoy or Napa cabbage) or head lettuce

6

radishes, thinly sliced

A couple

of tablespoons

dried Mexican oregano

A couple

of tablespoons

crushed red chile (like chile de árbol or other hot chile)—if your guests like spicy food)

2

limes, cut into wedges

A

dozen

tostadas (crisp-fried tortillas, store-bought or homemade)
Instructions
Make the chile puree. Scoop the ancho and guajillo chiles into a bowl, cover with 2 cups hot tap water, weight with a plate and let rehydrate for 20 minutes.  Using a pair of tongs, transfer the chiles and about 1 cup of their soaking liquid to a blender or food processor and blend to a smooth puree.  
Layer the slow-cooker.  Set a medium-mesh strainer over a 6-quart slow-cooker and press the chile mixture through it.  Measure in 3 quarts water and 2 tablespoons salt and stir to mix everything thoroughly.  Add the nixtamal or dried pozole corn, then the pigs feet, pork roast,  onions and garlic.  
Cook the pozole. Cover and cook your pozole on high for 6 hours (if you can't get back to it in 6 hours, that's okay; most slow-cookers will flip to "keep warm" mode at this point).  Check to make sure that the corn is completely tender and that the meat is at that fall-apart stage.  If not, it will need to cook on high for another couple of hours.  With a large slotted spoon or spider strainer, fish out all the meat.  Be careful:  the tender pigs feet have a tendency to fall apart; make sure you don't leave any behind (especially the knuckle-like cartilage).  Pull all the cartilage from the pigs feet, roughly chop what remains and return to the pozole.  Coarsely shred the pork shoulder and return it to the pot.  Taste and season with salt, usually about 2 teaspoons. 
Serve the pozole.  Ladle portions of pozole into large bowls and top each one with a mound of cabbage and a handful of radish slices.  Pass the oregano and red chile for everyone to spoon on to their own taste, along with limes wedges to squeeze in and tostadas to eat alongside.