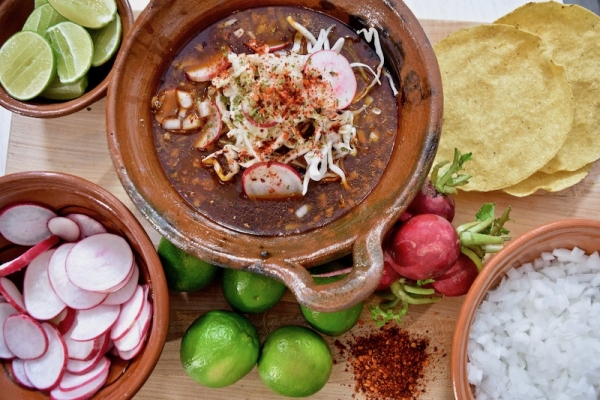 Servings:
8
quarts, serving 12
Ingredients
2

pounds (about 5 cups)

fresh or frozen nixtamal corn, well rinsed OR 1 ½ pounds (4 cups) American Southwestern dried pozole corn

1

head

garlic, cloves broken apart, peeled and halved

3 1/2

pounds (1 1/2 medium)

pork shanks, cut into 1 ½-inch thick pieces (you'll have to ask the butcher to cut this for you)

1 1/2

pounds (2 medium)

pork trotters (aka fresh pigs' feet), cut lengthwise in half (you'll have to ask the butcher to do this for you, too)

1 1/2

pounds

bone-in pork shoulder, cut into 3 or 4 large pieces (again, ask the butcher to help)

2

large

white onions, chopped rather finely

8

medium

dried ancho chiles,

stemmed and seeded

3

limes, cut into wedges

6

cups

thinly sliced cabbage or head lettuce (though not traditional, I love Napa cabbage for pozole)

15

radishes, thinly sliced

3 to 4

tablsepoons

dried Mexican oregano

2

tablespoons

coarsely ground hot dried red chile (optional), store bought or homemade

24

tostadas (crisp-fried corn tortillas) store bought or homemade
Instructions
Cooking the corn. The most careful cooks like to remove the hard, pointy end—the germ—of each lime-treated corn kernel (nixtamal) so that the kernels will splay into a rough flower shape as they cook. A fingernail or small knife works well for this job, as does a lot of patience. (This step is impractical when using American Southwestern dried pozole)
Into a large (10-quart or so) pot, measure in 6 quarts of water and add the corn (either the rinsed nixtamal or the dried corn) and garlic. Bring to a boil, partially cover the pot and simmer gently over medium-low heat until the corn is thoroughly tender—at a minimum allow 2 to 3 hours for nixtamal, about 5 hours for the dried corn. Add water as necessary to keep the water level more-or-less constant.  Slower, longer cooking only means better pozole, as evidenced by the fact that in many places in Mexico huge pots of the fragrant mixture simmer over wood fires overnight before a fiesta.
The meat. While the corn is simmering, cook the meat.  Place the meats in another large pot, cover with 4 quarts water and add 2 tablespoons salt. Bring to a boil, skim off the grayish foam that rises during the next few minutes, then add 1 of the chopped onions. Partially cover and simmer over medium-low heat until all the meat is thoroughly tender, about 2 hours.  (If time allows, cool the meat in the broth for the best flavor and texture.)
Remove the meat from the broth and let cool. Skim the fat from the broth; you'll have 2 generous quarts broth.  Pull off the meat from the pork shanks in large shreds.  Also pull the shoulder meat into large shreds.  Cut the bones and knuckles out of the trotters. Discard bones and knuckles, then chop what remains into ½-inch pieces. Add to the shredded meat  (there will be about 6 cups of meat in all). Cover and refrigerate if not serving within an hour.
Seasoning the pozole. While the corn and meat are cooking, rehydrate the ancho chiles in enough hot water to cover (lay a small plate on top to keep them submerged) for about 20 minutes.  Puree the mixture (liquid and all) in batches in a blender or food processor.  When the corn is tender, press the chile mixture through a medium-mesh strainer (this removes tough chile skins) directly into the simmering pot. Add the pork broth and 1 tablespoon salt, partially cover and simmer 1 hour.
Serving. When you're ready to serve, set out bowls of the condiments for your guests to add to their steaming, fragrant bowlfuls al gusto: lime wedges, sliced cabbage or lettuce, sliced radishes, oregano and optional chile.  Scoop the remaining chopped onion into a strainer, rinse under cold water, shake off the excess, then place into a bowl and set out with the other condiments.
Add the meat to the simmering pozole and check the consistency: it should look hearty—chock full of hominy with bits of meat—but brothy enough to be thought of as a soup or brothy stew.  Taste the pozole and season with additional salt if you think it's necessary. Since hominy soaks up a surprising amount of salt, you may need as much as another tablespoon.
Either serve your pozole extravaganza (brothy stew plus garnishes and go-withs) buffet-style, or ladle portions of the pozole into large soup bowls, deliver them to your guests, then pass around the condiments.  Before sprinkling it over the bowl, the whole-leaf oregano is powdered by each guest by rubbing it between the palms.  The crushed red chile is for those who really like spice. The tostadas are eaten as an accompaniment on the side.
Working Ahead:  Pozole prepared through Step 3 keeps very well—even improves—for several days, refrigerated.   The biggest hurdle for most cooks is cooling it down quickly enough (I highly recommend immediately dividing finished pozole into at least four  2- to 3-quart containers for quick cooling) and finding enough space in the refrigerator. Complete Step 4 shortly before serving.