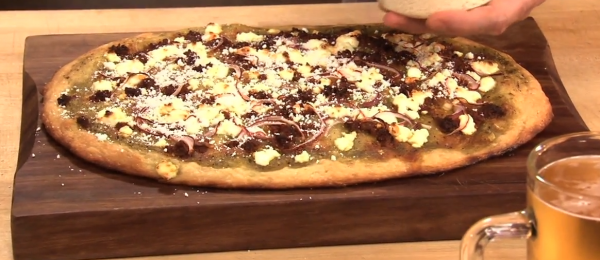 From Season 8  Mexico—One Plate at a Time
Ingredients
2

cups (10 ounces)

all-purpose flour

1/4

teaspoon

instant or rapid-rise yeast

1

teaspoon

Salt

1/2

cup

room-temperature water

1/3

cup

beer - a light lager is good here

A few

tablespoons

good quality olive oil

2/3

cup

Roasted Tomatillo Salsa

A

couple

of very thin slices of red onion

4

ounces

goat cheese, coarsely crumbled into roughly 1/2-inch pieces

3

slices

bacon, cooked until crisp and coarsely crumbled OR 4 ounces Mexican chorizo sausage, casing removed and cooked thoroughly

2

tablespoons

grated Mexican queso anejo,

Romano or Parmesan

A

Handful

of cilantro leaves
Instructions
1. Make the dough. In a medium bowl, mix together the flour, yeast and salt. Measure in the water and beer. Stir to combine everything into a rough-looking mass. Cover with plastic wrap and leave at room temperature for as few as 8 up to 18 hours.
2. Form, bake and serve the pizza. Heat the oven to 500 degrees. Generously oil a 13 x 18 rimmed baking sheet (what's called a "half sheet pan"). Use a rubber spatula to gently deflate the dough and scrape it out onto the baking sheet. Gently coax the dough—nudging and tugging—into an even rectangle about 9 by 13 inches.
Spread on the sauce, leaving a 1-inch border around the outside. Scatter on the bacon, sliced onion and crumbled goat cheese. Bake in the middle of the oven until puffy and brown, about 25 minutes.
Sprinkle with queso anejo and cilantro leaves, cut in squares and carry to your lucky guests.