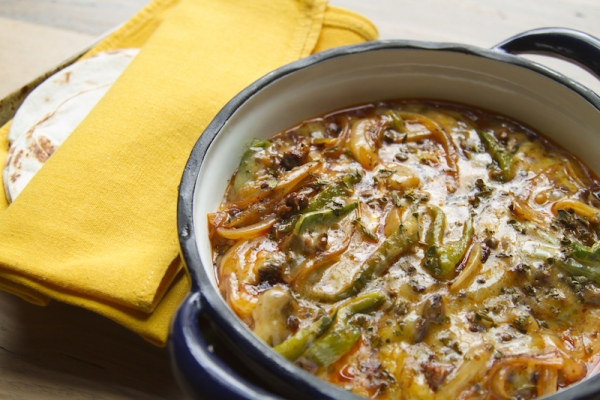 Ingredients
2

fresh poblano chiles

4

ounces (1/2 cup)

Mexican chorizo sausage,

casing removed if there is one, store bought or homemade

1

medium white onion, sliced

Salt

12

corn tortillas, the fresher the better (store-bought are okay, though homemade will really shine here)

8

ounces

Chihuahua or other Mexican melting cheese such as quesadilla or asadero (lacking Mexican cheese, queso fundido is delicious made with everything from Monterey jack to mild cheddar), shredded (you'll have about 2 cups)

About 1

teaspoon

or so of crumbled dried oregano, preferably Mexican
Instructions
1. Roasting the poblano chiles. Roast the poblanos on an open flame or on a baking sheet 4 inches below a very hot broiler, turning regularly until the skin is evenly blistered and blackened, about 5 minutes for an open flame, about 10 minutes for the broiler. Be careful not to char the flesh—only the skin. Cover with a kitchen towel and let stand for 5 minutes. Rub off the blackened skin, then pull or cut out the stems and the seed pods. Tear the chiles open and quickly rinse to remove stray seeds and most bits of skin. Cut into ¼-inch-wide strips about 2 inches long.
2. The chorizo-poblano mixture. In a medium-size skillet (preferably non-stick), cook the chorizo over medium heat, stirring to break up any clumps, until half-cooked, about 5 minutes. (As the chorizo heats, it should render enough fat to cook the meat; if the mixture seems dry, add a little oil.) Add the onion and cook, stirring frequently, until the onion is richly golden and the chorizo done, about 10 minutes. (If the mixture looks very oily, drain.) Stir in the poblano strips, taste and season with salt if you think the mixture needs some.
3. Finishing the queso fundido. Sprinkle in the cheese. Stir slowly and constantly until just melted—too long over the heat and the cheese will become tough, oily and stringy. Immediately scoop into a warm serving dish (a small fondue dish with a tea light below is ideal). Sprinkle with the crumbled oregano and serve without a moment's hesitation, accompanied by the warm tortillas.