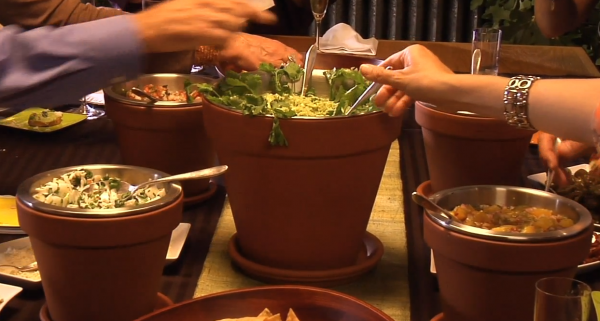 Recipe from Season 7, Mexico—One Plate at a Time
Servings:
4
cups, serving 12 as part of a party
Ingredients
Guacamole

6

garlic cloves

6

medium-large (about 2 1/2 pounds) ripe

avocados

1/2

cup

(loosely packed) coarsely chopped fresh cilantro (thick bottom stems cut off)

2

tablespoons

fresh lime juice, plus a little more if necessary

Salt

Garnishes, Chips and Bread

3/4

cup (about 3 ounces)

Mexican queso fresco

or queso añejo or other garnishing cheese like salted pressed farmer's cheese, firm goat cheese, mild feta or romano, finely crumbled or grated

3/4

cup (about 3 ounces)

pepitas,

(pumpkinseeds) toasted

3/4

cup

sliced "nacho ring" pickled jalapeños (you'll need half of an 11-ounce can)

3/4

cup (about 2 ounces)

coarsely crumbled chicharrón (Mexican crisp-fried pork rind) OR 1/2 cup crumbled, crisp-fried bacon (you'll need to start with 2 to 3 medium-thick bacon slices)

1 1/2 to 2

pounds large

sturdy chips (preferably homemade or from a local tortilla factory) or small (2- to 3-inch) tostadas OR 2 baguettes (about 1 pound each), diagonally sliced 1/2-inch thick, brushed with olive oil and toasted on a grill or under a broiler
Toppers

Crab Salpicon

Smoked Salmon and Poblano Salpicon

Salsa Mexicana

Orange-Tomatillo Salsa
Instructions
Make the Roasted Garlic Guacamole. In a small dry skillet over medium heat, roast the unpeeled garlic until it is soft and blackened in spots, 10 to 15 minutes. Cool, then slip off the papery skins and finely chop. Cut around each avocado from stem to blossom end and back up again, then twist the halves apart. Dislodge the pit and scoop the avocado flesh into a large bowl. Add the garlic, cilantro and lime. Coarsely mash everything together. Taste and season with salt, usually about 1 teaspoon. Scoop into its serving bowl and cover with plastic wrap directly on the surface of the guacamole. Refrigerate until you are ready to serve.
Serve the Luxury Guacamole Bar. Scoop the garnishes into small serving bowls and the chips and bread into a large basket or bowl. Set out everything—put spoons in all the preparations including the salpicons and salsas—for your guests to enjoy, encouraging them to spoon a little guacamole on a toast or chip, top with a garnish that appeals.