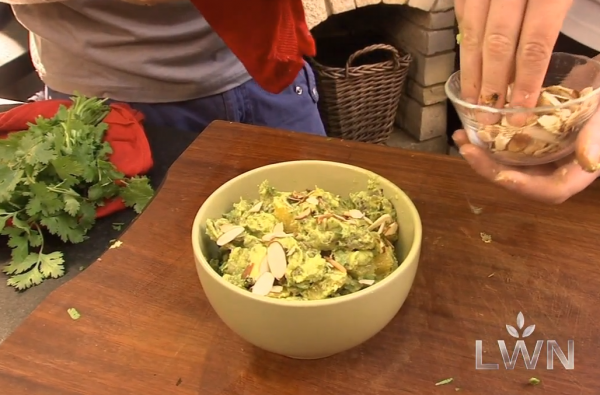 Recipe from Season 6, Mexico—One Plate at a Time
Servings:
2
1/2 cups, enough for 8 to 10 as a snack or pre-dinner nibble
Ingredients
A little vegetable oil

6

garlic cloves, unpeeled

1

jalapeno

OR 2 serrano chiles, stemmed

1

small red onion, sliced 1/4 inch thick

3

medium-large ripe avocados, pitted, flesh scooped from the skin

1/4

cup

(loosely packed) coarsely chopped fresh cilantro

2

small oranges

1 to 2

tablespoons

lime juice

Salt

1/4

cup

toasted sliced almonds (optional)
Instructions
Turn on a gas grill or light a charcoal grill and let the coals burn until medium hot and covered with white ash. Lightly coat a perforated grill pan with oil and lay the garlic on one side, the chile(s) and onion on the other. Set over the fire and grill, turning the garlic and chile occasionally, and stirring the onion until soft and lightly browned, about 15 minutes. (You'll want to remove any pieces that brown more quickly than others.) Scoop everything onto a cutting board, chop into small pieces and cool.
With the side of a knife or in a mortar, work the garlic into a coarse paste. Scrape into a large bowl and add the chopped onion and chile, along with the avocado and cilantro. Using an old-fashioned potato masher, large fork or back of a large spoon, coarsely mash everything together.
To cut supremes from the oranges, cut the stem and blossom ends off the oranges, stand the oranges on a cutting board and, working close to the flesh, cut away the rind and all the white pith. With a sharp, thin knife, cut the orange segments from between the white membranes that divide them. Cut the supremes in half and stir into the avocado mixture.
Taste and season with the lime juice and salt, usually about 3/4 teaspoon. Scoop into a serving bowl, cover with plastic wrap directly on the surface of the guacamole and refrigerate until you're ready to serve (which should be within a couple of hours). Just before serving, sprinkle with the toasted almonds, if you're using them, and set before your guests.