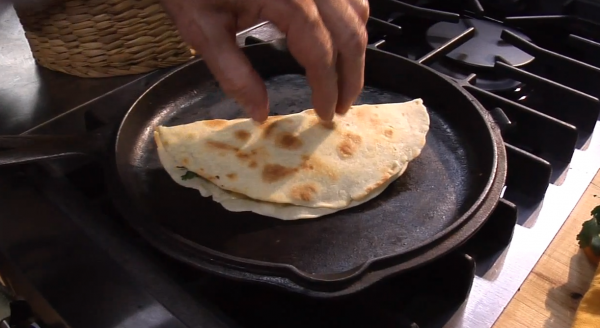 Recipe from Season 7, Mexico—One Plate at a Time
Ingredients
2

garlic cloves, unpeeled

1 to 2

fresh serrano chiles, stemmed

6

ounces (about 1 packed cup)

crumbled Mexican queso fresco or other fresh cheese such as feta or goat cheese

or dry (Italian-style) ricotta

1

teaspoon to 1 tablespoon

chopped fresh herb—epazote is traditional in Mexico, but you can use cilantro, thyme, marjoram, basil or parsley

2

ounces

thinly sliced dry-aged ham (American country ham, Spanish Serrano ham or prosciutto are all viable options), finely chopped

8

fresh

squash blossoms

(if you have them)

Salt

1

pound (about 2 cups)

fresh smooth-ground corn masa for tortillas OR 1 3/4 cups powdered masa harina mixed with 1 cup plus 2 tablespoons warm water

About 1

cup

guacamole or salsa (roasted tomatillo salsa is my favorite here)
Instructions
Make the filling. In a small ungreased skillet over medium heat, roast the garlic and chiles, turning regularly, until soft and blotchy brown-black, about 10 minutes for the chiles, 15 minutes for the garlic. Cool, then slip the papery skin off the garlic.
In a molcajete (mortar), crush the garlic and chiles to a puree (you can chop them in a food processor, but the result won't be as aromatic and delicious). Scrape into a large bowl and add the cheese. Mix thoroughly, then mix in the herb and ham. If you have the squash blossoms, clean them (break off the stems, pull off the little green sepals at the base of each one, pull out the pistils in the center) and cut them crosswise, including the bases, into 1/4-inch pieces. Mix the squash blossoms into the cheese mixture. Taste and season with salt, usually about 1/4 teaspoon for queso fresco, 1/2 teaspoon for ricotta.
Form and griddle-bake the quesadillas. Heat a well-seasoned or nonstick griddle or heavy skillet over medium. Turn the oven on to its lowest setting. Knead 1/2 teaspoon salt into the fresh or reconstituted masa. If necessary knead a few drops of water into the masa to give it the consistency of soft cookie dough. Divide into 8 pieces, roll into balls and cover with plastic wrap to keep from drying out.
One by one, make the quesadillas: Line a tortilla press with two pieces of plastic cut to fit the plates. Gently press out a flattened ball of dough between the sheets of plastic into a 5-inch circle. Peel off the top sheet of plastic, flip the tortilla—uncovered side down—onto the fingers of one hand and gently peel off the second piece of plastic. In one flowing movement, roll the tortilla off your hand and onto the preheated griddle or skillet.After about 30 or 45 seconds, when the tortilla has released itself from the cooking surface, flip it. Immediately spoon about 2 tablespoons of the filling into the center. Fold the quesadilla in half over the filling after another 30 or 45 seconds. Continue to cook, flipping the quesadilla ever 30 seconds or so, until it is richly browned in places and crispy-crunchy, 4 to 5 minutes—a little longer than you might expect. As you fold each tortilla over the filling, move on to making the next quesadilla. As they're done, keep them warm on a baking sheet in the low oven.As soon as you finish making the last quesadilla, serve them with the guacamole or salsa.