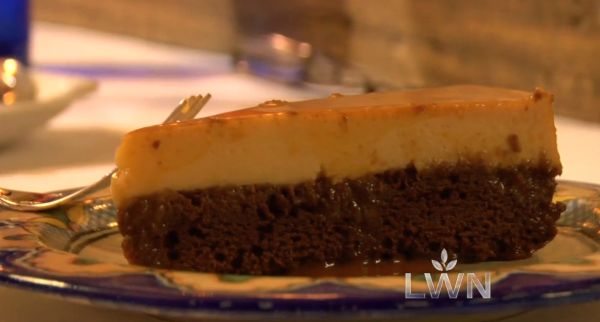 Recipe from Season 6, Mexico—One Plate at a Time
Ingredients
For the mold:

A

little

softened butter and some flour

1

cup

cajeta

(goat milk caramel), store-bought or homemade

For the cake:

5

ounces (10 tablespoons)

butter, slightly softened

1

cup

sugar

1

egg

2

tablespoons

espresso powder dissolved in 1 1/2 tablespoons hot water OR 3 tablespoons espresso

3/4

cup

all-purpose flour

1

cup

cake flour

3/4

teaspoon

baking powder

3/4

teaspoon

baking soda

1/3

cup plus 1 tablespoon

cocoa powder (I like the more commonly available - not Dutch process - cocoa best here)

9

ounces

buttermilk

For the flan:

1

12-ounce

can evaporated milk

1

14-ounce

can sweetened condensed milk

4

eggs

1

teaspoon

Mexican vanilla

or pure vanilla extract
Instructions
Prepare the mold. Turn on the oven to 350 degrees and position the rack in the middle. Generously butter the bottom and sides of a 10-inch round cake pan (you need one that's 3 inches deep), sprinkle with flour, tip the pan, tapping on the side of the counter several times, to evenly distribute the flour over the bottom and sides, then shake out the excess. Microwave the cajeta for 30 seconds to soften it, then pour over the bottom of the pan, tilting the pan to coat the bottom evenly. Set a kettle of water over medium-low heat. Set out a deep pan that's larger than your cake pan (a roasting pan works well) that can serve as a water bath during baking.
Make the cake. With an electric mixer (use the flat beater, if yours has a choice), beat the butter and sugar at medium-high speed until light in color and texture. Scrape the bowl. Beat in the egg and espresso. Sift together the all-purpose and cake flour, baking powder, baking soda and cocoa. Beat in about 1/2 of the flour mixture, at medium-low speed, followed by 1/2 of the buttermilk. Repeat. Scrape the bowl, then raise the speed to medium-high and beat for 1 minute.
Make the flan. In a blender, combine the two milks, the eggs and the vanilla. Blend until smooth.
Layer and bake. Scrape the cake batter into the prepared cake pan and spread level. Slowly, pour the flan mixture over the cake batter. (I find it easiest to pour the mixture into a small ladle, letting it run over onto the batter.) Pull out the oven rack, set the cake into the large pan, then set both pans on the rack. Pour hot water around the cake to a depth of 1 inch. Carefully slide the pans into the oven, and bake about 50 to 55 minutes, until the surface of the cake is firm to the touch, except for the very center . Remove from the water bath and cool to room temperature, about 1 hour.
Serve. Carefully run a thin-bladed knife around the edge of the cake/flan to free the edges. Invert a rimmed serving platter over the cake pan, grasp the two tightly together, then flip the two over. Gently jiggle the pan back and forth several times to insure that the cake/flan has dropped, then remove the pan. Scrape any remaining cajeta from the mold onto the cake.