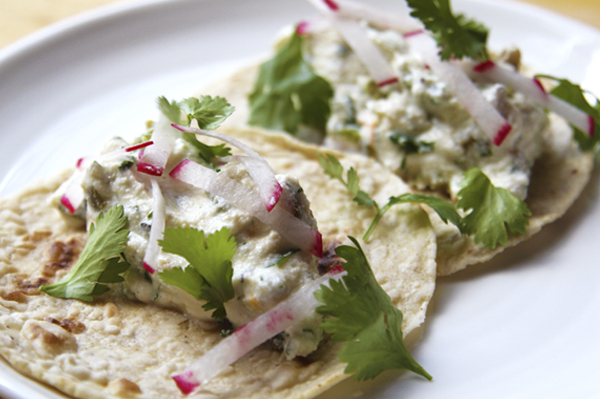 Ingredients
4

garlic cloves, unpeeled

1

cup

ricotta cheese (the freshest you can find)

4

teaspoons

chopped fresh herbs (such as cilantro, epazote, thyme, marjoram)

Salt

About 1/8 teaspoon black pepper, preferably freshly ground

3 or 4

radishes, thinly sliced or cut into matchsticks

A few tablespoons chopped white onion, for garnish

Big, beautiful sprigs of cilantro, for garnish
Instructions
On an ungreased griddle or small, heavy skillet set over medium heat, roast the garlic, turning frequently, until blackened in spots and soft to the touch, about 15 minutes. Cool, peel off  the papery skins, then finely chop.
Roast the chiles directly over a gas flame or 4 inches below a very hot broiler until blackened on all sides, about 5 minutes for open flame, about 10 minutes for broiler.  Cover with a kitchen towel and let stand 5 minutes.  Peel, pull out the stem and seed pod, then rinse briefly to remove bits of seeds and stray bits of skin. Chop the chiles into 1/4-inch bits.
In a medium-size bowl, mix together the garlic, ricotta, fresh herbs and half the chopped chiles. Taste and season with the salt and pepper. Cover and set aside.
Set up a steamer (a vegetable steamer in a large saucepan filled with 1/2 inch of water works well); heat to a boil. Wrap the tortillas in a heavy kitchen towel, lay in the steamer and cover with a tight lid. Boil 1 minute, turn off the heat and let stand without opening the steamer for 15 minutes.
Just before serving, mix the remaining half  of the chopped chiles into the ricotta (plus enough water to make it easily spoonable). One at a time, spread a generous 2 tablespoons of the ricotta filling over each of 8 hot tortillas. Sprinkle with the radishes and onion, lay on a sprig of cilantro and you're ready for some light, zesty flavors.
Advance Preparation: The filling will hold well for a couple of days in the refrigerator, but is best served at room temperature. Assemble the tacos at the last moment.
Shortcuts: You can replace the roasted poblano with well-drained canned pickled jalapeños or canned chipotle chiles en adobo.