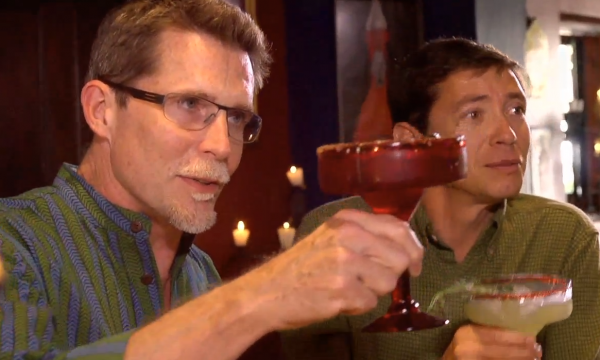 From Season 8  Mexico—One Plate at a Time
Ingredients
Jamaica

5

ounces

dried Jamaica "flowers"

1

scant cup

sugar

1 1/2

cups

fresh lime juice

2

cups

100% agave blanco tequila (some good choices are Tres Generaciones and El Milagro)

1

cup

Cointreau

1/2

cup

Jamaica "Flower" Infusion

1/4

cup

Jamaica Flowers

1/4

cup

sugar

A

lime half for moistening the glass rims

Ice cubes (you'll need about 6 to 7 cups – small ones are best)
Instructions
1. Make the jamaica "flower" infusion. In a medium (3-quart) stainless saucepan, bring 3 cups water to a boil. Add the jamaica "flowers" and sugar. Stir for a minute or so while the liquid returns to a boil and the sugar dissolves. Turn off the burner and cover the pan. Let steep for at least an hour, but no more than 2 hours. Pour the mixture through a colander or strainer into a large stainless steel or glass bowl, pressing the "flowers" to extract as much liquid as possible. Cover and refrigerate until chilled, about 1 hour. You can make this infusion several days ahead.
2. Make the margarita mixture. In a large pitcher, stir together the lime juice, tequila, Cointreau and Jamaica "Flower" Infusion. Cover and refrigerate until chilled, about 1 hour.

3. Make the garnishing sugar. Place the jamaica flowers into a coffee grinder or small food processor. Grind until the flowers are reduced to small flakes. Add the sugar and pulse to combine. Spread this mixture on a small rimmed plate.
4. Serve. Moisten the rims of three 6-ounce martini glasses with the lime half, then upend the glasses to crust the rims. Fill a cocktail shaker about 3/4 full of ice and measure 1 1/2 cups of the margarita mixture for three drinks. Cover and shake for 15 seconds to thoroughly chill the mixture – that's how long it takes for the perfect amount of ice to melt into the drink. Strain into the prepared glasses and you're ready to offer your guests a taste of Baja. Finish the remaining margaritas in the same way.