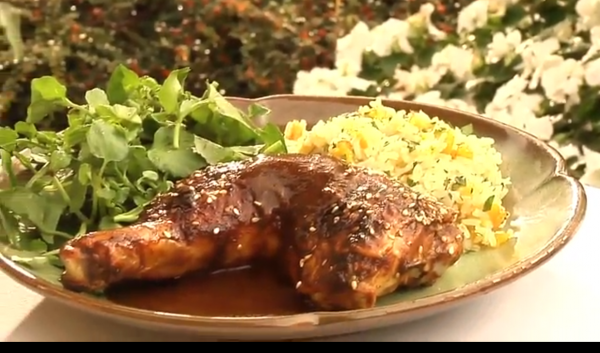 Recipe from Season 7, Mexico—One Plate at a Time
Ingredients
6

cups

chicken broth

Salt

3

cups

vegetable oil (I like to use oil that's especially refined for high-heat cooking)

4

large (about 2 1/2 pounds total) soft, black-ripe

plantains,

peeled and cut into 1/2-inch cubes

6

cups

white rice, preferably medium-grain

2

large (1 pound total)

white onions, chopped into 1/4-inch pieces

8

garlic cloves, peeled and finely chopped

About 3/4

cup

(loosely packed) roughly chopped flat-leaf parsley, for garnish
Instructions
Heat the broth. Turn on the oven to 350°. Measure the broth into a large (4-quart) saucepan. Add 1 tablespoon of salt , if you are using salted broth, 2 tablespoons if you're using unsalted broth. Cover and set over medium-low heat.
Fry the plantains. In a very large (9-quart) Dutch oven (or comparable soup pot), heat the oil over medium to medium-high. When the oil is quite hot (but not smoking), add the plantains and fry, breaking apart any clumps until the plantains are a rich golden brown, 20 to 25 minutes. Use a slotted spoon or wire skimmer to remove the plantain cubes to paper towels to drain.
Fry the rice. Set up a large strainer over a metal bowl; set beside the stove on a heat-resistant surface. With the pan of oil still over the heat, raise the heat to high and add the rice. Stir regularly until the rice has turned from translucent to milky white (but not begun to brown), about 10 minutes. Immediately (and carefully) pour the rice and oil into the strainer, making sure to get all the rice out of the pan. Clean off any drips on the outside of the pan.
Cook the rice. Without washing the pan, set it over medium heat. If there isn't a generous coating of oil on the bottom, spoon a little of the strained oil back into the pot. Add the onion and cook, stirring regularly, until soft but not browned, about 5 minutes. Add the garlic and stir for 1 minute. Add the rice and broth. Stir several times through all parts of the pan, making sure to scrape down any rice grains that are clinging to the sides above the liquid. Cover and place in the oven. After 30 minutes uncover and test a grain of rice: if it's still a little chalky in the center and it's clear that all the liquid has been absorbed, drizzle about 1/4 cup of water over the rice, re-cover and bake for 5 to 10 minutes longer.
Serve the rice. When the rice is ready, sprinkle the fried plantains and chopped parsley over the top and gently fold them in—if you're careful and stir all the way to the bottom, you'll release a lot of steam, which will stop the rice from overcooking.