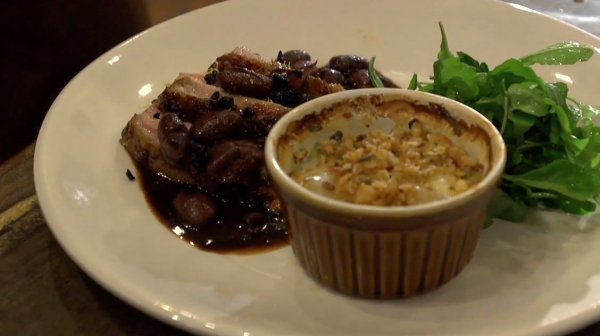 From Season 8,  Mexico—One Plate at a Time
Ingredients
1

head

cauliflower, preferably romanesco, florets removed from the stalk and broken into small pieces (you'll need 2 1/2 cups)

12

ounces

baby patty pan squash, halved and thinly sliced (you'll need 3 cups)

1

medium

fennel bulb, sliced very thin (you'll need 1 cup)

1

small white onion or 4 shallots, sliced paper thin

6

squash blossoms,

cleaned (pistels and stamens removed) and thinly sliced

1/2

cup

(loosely packed) chopped fresh cilantro (thick bottom stems removed)

1

cup

Mexican crema,

crème fraiche or heavy cream

1

medium (8 ounces)

baking potato, peeled, shredded and squeezed dry

Salt

3

tablespoons

olive oil

3

cups

fresh bread crumbs
Instructions
Prepare and bake the budins. Turn on the oven to 375 degrees. Bring a large pot of salted water to a boil, scoop in the florets and blanch for 2 minutes. Drain and let cool. In a large bowl, mix together the patty pans, fennel, onion, squash blossoms, cilantro and crema. Add the cauliflower, grated potato, 1 1/4 teaspoons salt and mix well. Fill six 8-ounce ramekins and arrange them on a rimmed baking sheet . Bake for 30 minutes or until the tops are golden brown.
Make the crumb topping. While the budins are baking, heat the oil in a large (10-inch) skillet over medium. Once hot, add the bread crumbs and stir until crisp and brown, about 5 minutes.
Finish the budins. Remove the ramekins from the oven and sprinkle on the shredded cheese. Return to the oven and continue baking until the cheese has melted, about 5 minutes. Top with the crispy bread crumbs. Serve warm or at room temperature.