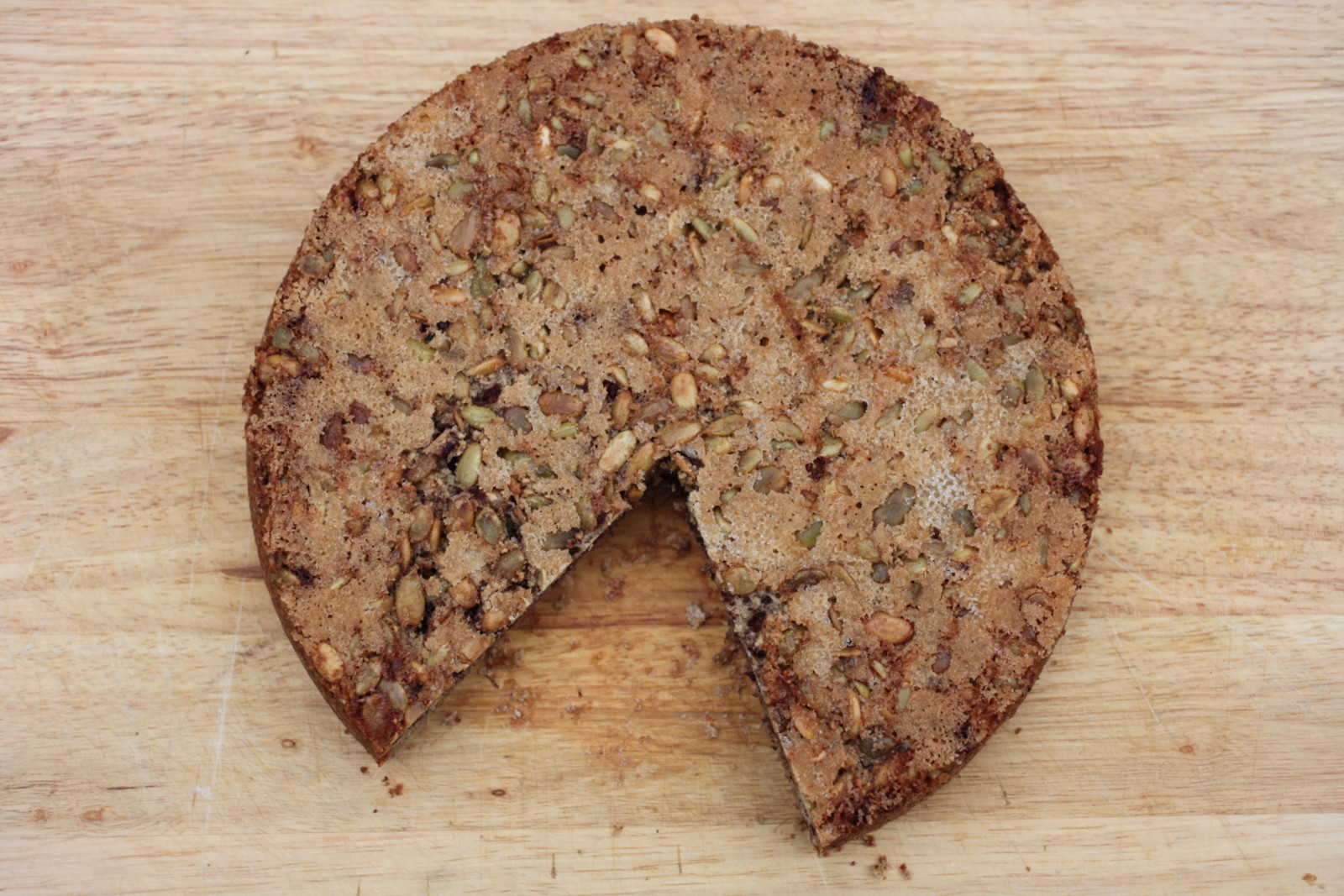 Ingredients
4

ounces (1 stick; 8 tablespoons)

unsalted butter slightly softened and cut into ½ -inch pieces, plus another tablespoon or two  greasing the pan

1 3/4

cups (about 8 ounces)

pepitas

(pumpkinseeds) hulled, toasted, salted (divided use)

1

cup plus 2 tablespoons

sugar (divided use)

3

large eggs, room temperature

1/3

cup

all-purpose flour

1/4

teaspoon

baking powder

1

tablespoon

tequila

1/2

cup (about 3 ounces)

Mexican chocolate
Instructions
Position a rack in the lower third of the oven and turn it on to 350 degrees. Butter the bottom and sides of a 9-inch cake pan, then line the bottom with a round of parchment paper cut to fit the bottom and slather it with more butter (about a tablespoon). Sprinkle ½ cup of the pumpkin seeds in an even layer on the bottom of the pan, then sprinkle with 2 tablespoons of the sugar. Set aside.
Measure the remaining 1 ¼ cups of the pumpkin seeds and 1 cup of the sugar into a food processor. Pulse the machine until the seeds are pulverized and resemble damp sand. Add the eggs and the 4 ounces of butter and pulse until everything is incorporated. Add the flour, baking powder and tequila and pulse again, just until everything is combined.
Chop the chocolate into pea-sized pieces and add it to the batter. Pulse until the chocolate is mixed in. Scrape the batter into the prepared pan and bake until a toothpick inserted into the center comes out clean, 35 to 40 minutes. Let the cake cool for ten minutes, then unmold it onto a platter, remove the parchment paper and serve.