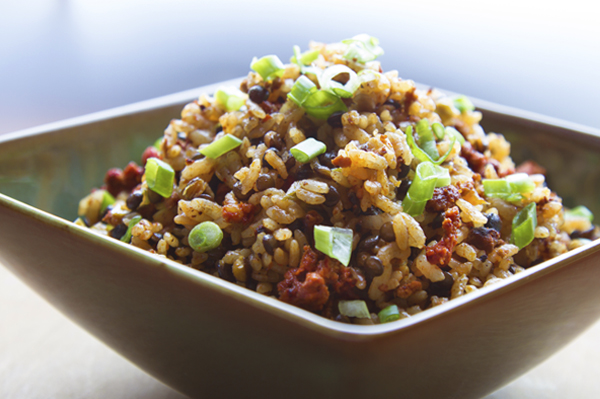 Servings:
4
as a main course
Ingredients
1/3

cup

lentils, preferably the black beluga or green French lentils

4

ounces

fresh Mexican chorizo sausage,

casing removed

1

cup

rice (I prefer medium-grain rice here)

1/2

cup

chopped green or knob onions (about 2 onions) OR 1/3 cup chopped regular or garlic chives

Salt
Instructions
Place the lentils and 3/4 cup water in a rice cooker and cook for about 20 minutes or until the rice cooker turns to the "keep warm" mode; the lentils should taste about half done. Meanwhile, in a large (10-inch) skillet set over medium heat, cook the chorizo, breaking up any clumps, until it has begun to brown, about 7 minutes. Stir the rice into the chorizo and cook, stirring nearly constantly, until it has turned from translucent to milky white, about 3 minutes more.
When the lentils are ready, scrape the chorizo and rice mixture into the rice cooker along with the onion (or chives), 1 teaspoon salt and 1 3/4 cups water. Cover the rice cooker, once again turn it to "cook" and let the rice cook until the appliance switches to "keep warm" mode, 15 to 20 minutes.
Taste a grain of rice: it should be very close to done at the core. If not, sprinkle a little water, recover and cook 5 minutes more. Gently fluff the mixture with a fork, reaching all the way to the edges at the bottom, to release steam and slow the cooking (though of course it can hold up to an hour or so in "keep warm" mode.)
You're ready to serve.