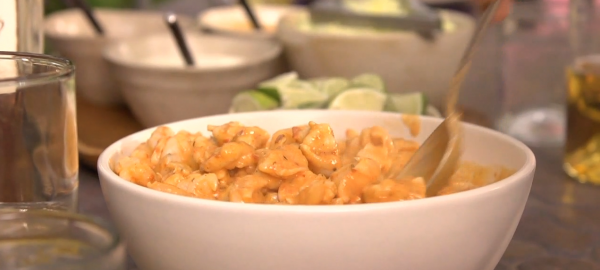 From Season 8, Mexico—One Plate at a Time
Servings:
12
tacos, enough to serve 4
Ingredients
3

cloves garlic, unpeeled

1/2 of a

14.5-ounce

can tomatoes in juice (preferably fire-roasted), lightly drained

2 to 3

canned chipotle chiles en adobo,

removed from their canning liquid, seeded if you wish and roughly chopped

1

tablespoon

olive or vegetable oil

2/3

cup

Mexican crema,

creme fraiche or heavy (whipping) cream

3/4

teaspoon (or more)

fresh black pepper

1/2

teaspoon

Mexican oregano

Salt

1 1/4

pound

medium-to-large shrimp, peeled and (if you like) deveined, cut into 1/2-inch pieces

12

warm corn tortillas
Instructions
Roast the unpeeled garlic in an ungreased small skillet over medium heat, turning from time to time, until completely soft and blackened in places, about 15 minutes; cool and peel. In a blender or food processor, combine the garlic, tomatoes and chipotle chiles; blend to a smooth puree. In a medium (10-inch) skillet, heat the oil over medium-high. Add the puree and stir until reduced to the consistency of tomato paste, 5 minutes or so. Stir in the cream, pepper and oregano, reduce the heat to medium and let simmer for several minutes for the flavors to come together. Taste and season with salt, usually 1/2 teaspoon. Add the shrimp and stir until they are just cooked through (just losing their translucency at the center), about 3 minutes. Serve immediately with warm tortillas.