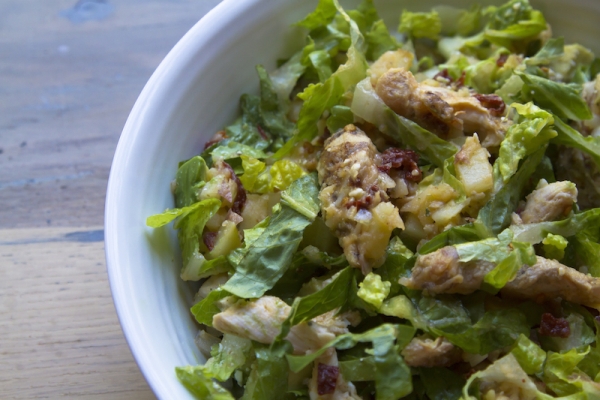 Ingredients
1

large

red-skin boiling or Yukon Gold potato, sliced 1/4-inch thick

Salt

3

tablespoons

vinegar (cider vinegar is good here, or use balsamic if you like more sweetness)

1

teaspoon

dried oregano, preferably Mexican

2

canned

chipotles en adobo, seeded and chopped

1/4

small

white onion, finely chopped

6

ounces

(about 1 1/2 cups) coarsely shredded cooked chicken (I use either the meat I've pulled from a rotisserie chicken, or leftover roast or grilled chicken, or a large boneless chicken breast that I've gently simmered in salted water for a few minutes until tender)

2

cups

sliced romaine leaves—slice them about 1/4-inch across

1

ripe

avocado, pitted flesh scooped from the skin and cut into 1/4-inch cubes

2

tablespoons

vegetable or olive oil

12

warm corn tortillas
Instructions
Scoop the sliced potato into a large microwaveable bowl, drizzle with 1/4 cup water and sprinkle generously with salt. Cover with plastic wrap, poke a couple of holes in the top and microwave on high (100%) for about four minutes, until tender but not mushy. Scoop the potatoes onto a cutting board, leaving the liquid behind, and let cool.
Add the vinegar, oregano, chipotle chiles and onion to the bowl with the potato-cooking water to make a dressing. Mix well, then taste and season with salt, usually about 1 teaspoon.
Use a fork to break the cooled potatoes into 1/2-inch pieces, then scoop them into a large bowl. Add the chicken, then drizzle on the dressing and toss everything together. (If there is time, refrigerate the mixture for about half an hour to blend flavors.)
Just before serving, add the lettuce and avocado to the bowl. Drizzle with the oil and toss to combine everything. Serve with the warm tortillas for making soft tacos.
Riffs on Salad Tacos: The idea of a substantial salad becoming a taco filling is flexible enough to embrace just about anything you can dream up — through I personally don't think mayonnaise-dressed salads work as well as those with a vinaigrette. Think beyond chicken salad to tuna (or other fresh seafood), steak and grilled vegetables. Or go all vegetarian: crumbled fresh goat cheese, blue cheese or Mexican queso fresco are wonderful featured in a salady taco like this. The potato can be replaced by other vegetables — broccoli, for instance, or chayote, zucchini or asparagus, all cut into small pieces and microwave-steamed the same way as the potatoes. Though I love romaine's sweet crunch, the filling will also welcome the more substantial Napa cabbage, the slightly bitter, toothsome frisée or the more tender (but not too delicate) Bibb lettuce.