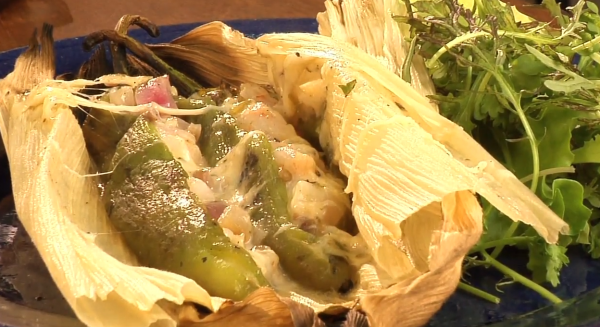 Recipe from Season 7, Mexico—One Plate at a Time
Ingredients
An 8

ounce package

dried corn husks

12

medium (about 1 1/2 pounds total)

Anaheim chiles

1

medium

red onion, sliced into 1/2-inch-thick rounds

A little vegetable oil

Salt

12

ounces

cooked small shrimp, chopped into 1/4-inch pieces

12

ounces

shredded Mexican melting cheese (Chihuahua, quesillo, asadero or the like) or Monterey Jack, brick or mild cheddar, shredded (you'll have about 3 cups)

1/2

teaspoon

oregano,

preferably Mexican

1/2

teaspoon

fresh ground black pepper
Instructions
 Soak the corn husks. Fill a very large saucepan 3/4 full of water, cover and bring to a boil over high heat. Remove from the heat, uncover, slide in the corn husks, weight with a heat-proof plate to keep them submerged, re-cover and let stand for an hour to rehydrate.
Roast the chiles, make the filling. Light a charcoal fire and let the coals burn until they are covered with grey ash and still quite hot; set the grill grate in place. Or heat a gas grill to medium-high. Lay the chiles on the grill and turn until blackened and blistered, about 4 minutes. Collect in a bowl and cover with a kitchen towel. Meanwhile, brush both sides of the onion slices with a little oil, sprinkle with salt, then lay in a single layer on the grill. Grill, turning at least once, until richly browned and soft, about 7 minutes. Scoop onto a cutting board and chop into small pieces.When the chiles are cool enough to handle, peel off the blistered skin. Make a slit in the side of each chile and use your finger to scrape out the seeds. Rinse briefly to remove any stray seeds or bits of skin. Dry with paper towels.

In a large bowl, mix together the chopped shrimp, shredded cheese, chopped grilled onion, oregano and black pepper. Divide into 12 portions, squeezing each into cigar shapes slightly shorter than the chiles.

Grill and serve. Add a little more charcoal to your fire if it has cooled off some. Choose 12 large corn husks. Lay six on your counter top and dry with a towel. Stuff each chile with a portion of the cheese mixture, lay them in pairs lengthwise on the corn husks and roll up. Lay out 6 more corn husks. Lay each "chile relleno roll" on another corn husk, tapered end pointing the opposite direction. Tear six 1/4-inch strips from the remaining corn husks and use them to tie around the center of each roll. Lay the rolls on the grill. Grill them for 10 to 12 minutes, turning them regularly, until the corn husks are slightly charred, the cheese has melted and the shrimp are warm. Slide them onto plates, cut off the ties, pry back the husk and serve without hesitation.