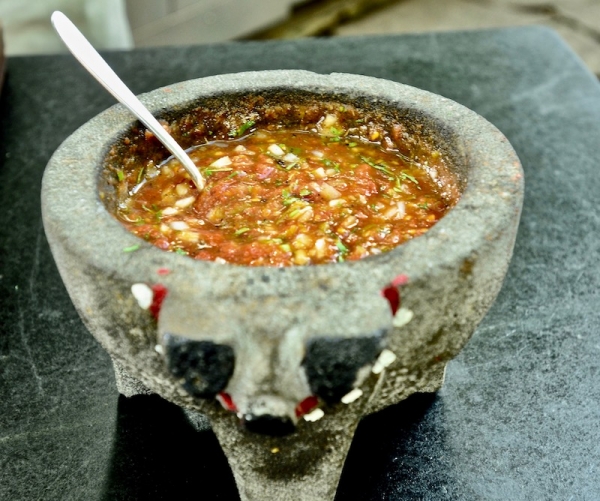 Ingredients
1

pound (2 medium-large round or 6 to 8 plum)

ripe tomatoes

Fresh hot green chiles to taste

(roughly 2 medium jalapeños or 4 serranos)

3

garlic cloves

1/4

cup

finely chopped white onion

About 1/3

cup

loosely packed chopped cilantro

Salt

A dash of vinegar or squeeze of lime, if you think necessary
Instructions
1. Roasting Roast the tomatoes on a baking sheet 4 inches below a very hot broiler, until they're darkly roasted (they'll be blackened in spots), about 6 minutes. Flip them over and roast the other side—5 or 6 minutes more will give you splotchy-black and blistered tomatoes that are soft and cooked through. Cool. Working over your baking sheet, pull off and discard the blackened skins and, for round tomatoes, cut out the hard "cores" where the stems were attached.
Roast the chiles and garlic on a dry skillet or griddle over medium heat, turning them occasionally until they are soft and darkened in places, about 5 minutes for the chiles, 15 minutes for the garlic.  Cool, then slip the papery skins off the garlic.
2. Finishing the salsa Either crush the roasted garlic and chiles to a smooth paste in a mortar or chop them to near-paste in a food processor.  If using a mortar, crush in the tomatoes one at a time, working them into a coarse puree.  For a food processor, add the tomatoes and pulse to achieve a coarse puree.
Scoop the chopped onion into a strainer and rinse under cold water.  Shake to remove excess moisture.
Transfer the salsa into a bowl, stir in the onion and cilantro, and season with salt, usually a generous ½ teaspoon.  Thin with a little water to give it a spoonable consistency (usually about 2 tablespoons).  Perk it all up with vinegar or lime if you wish.
Working Ahead: Once the onion and cilantro are added to the salsa, it should be eaten within a few hours.  Without onion and cilantro, the refrigerated base salsa keeps for several days, though the flavors dull.