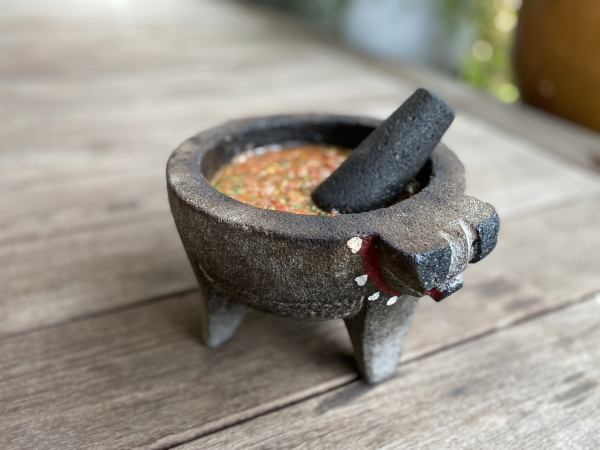 This is the tomato equivalent of tomatillo salsa, which means that you'll find cooks around Mexico (especially north of Mexico City) that traditionally boil the tomatoes and chiles rather than dry-roast them. While that turns out a good salsa, roasting everything, in my opinion and in the opinion of many Mexican cooks, is what adds deep, rich complexity to this salsa. I'm going to say the same thing of crushing everything in a mortar. Where a blender or food processor chops everything, the pestle in a mortar crushes the ingredients in a way that brings out more flavor. So use a mortar when you get a chance. Good quality Mexican molcajetes are available at lots of Mexican markets. Look for one that feels very heavy for its size (reflecting the density of the volcanic stone) and that holds about 3 cups. A production note from our restaurant kitchens. If you don't have time or patience to crush all the tomatoes into the mortar, crush the chile and garlic to a paste, then scrape it into the blender or processor with the tomato and pulse to a coarse puree. It saves a lot of time and produces a very, very good result. Don't feel you have to add vinegar or lime to the salsa, though some of you will want it, especially if you're accustomed to American salsas (which tend to be more acidic than ones in Mexico.
Ingredients
12

ounces

(2 medium round, 4 to 6 plum) ripe tomatoes

3-4

garlic cloves, unpeeled

Fresh hot green chiles (start with a large serrano or small jalapeño, but feel free to use any fresh chile), stemmed

Fresh cilantro (start with 6 or 8 sprigs)—optional but recommended

1/2

medium

white onion

salt

A little vinegar or fresh lime if you think the salsa needs it.
Instructions
Roast ingredients on a griddle (or very large skillet):  As cooks would in southern Mexico, heat griddle or skillet over medium to medium-high, then lay a piece of foil on one side (for easy clean up) and put the tomatoes there.  Lay the garlic and chile directly on the hot surface.  Roast, turning everything periodically until everything is soft and blotchy blackened  in places—10 to 15 minutes. Or roast ingredients under a broiler: Spread the tomatoes, garlic and chile on a rimmed baking sheet and roast about 4 inches below a hot broiler (my toaster oven works well here) until the tomatoes are blotchy blackened on one side, about 6 minutes, turn everything over and roast the other side.  
Cool: When handleable, cut the cores from the tomatoes and pull off the blackened skin if you wish. Peel the garlic.
Crush the ingredients in a mortar: Work the garlic and chile back and forth with the pestle until you have a smooth puree.  One by one, work the tomatoes into the mix, crushing them to a coarse puree.  Or make the salsa in a blender or food processor:  Turn on the appliance and drop in the garlic cloves and chile one by one. Scrape down the sides, then add the tomatoes (and any juices) and pulse until you have a coarse puree.  
Finish and season: Scrape the salsa into a serving dish and add water a tablespoon at a time until it's an easily spoonable consistency.  If you're using cilantro, gather it into a tight bundle and thinly slice across it (leaves and stems) until you run out of leaves. Chop the onion into about ¼-inch pieces.  For the freshest flavor, rinse in a strainer under cold water to get rid of that unpleasant "oniony" flavor.  Shake off excess water and add to the salsa along with the cilantro. Taste and season first with salt, usually about a scant teaspoon, then a little vinegar or lime if you think it needs it.    
Playing around:  Quite often, I slice and roast the onion along with the other ingredients.  Rather than crushing/processing it with the chile and garlic, I chop it to add at the same time as cilantro.  That's what we do when we make our crazy-popular salsa huevona, though that salsa has double the chile and double the amount of onion, and everything is cooked on the grill rather than under a broiler. it's smoky, spicy and sweet from roasted onion, everything hand chopped to make a coarse, very rustic salsa—no cilantro in that one.  This is a place where different chiles can really shine, especially if you up the quantity from the minimal amount I listed above. Think about this salsa when you're at a summer or fall farmers market. I love it with roasted habanero, but start with a half unless you're really into spice. 
Need a reliable molcajete? Our friends at Masienda have a great one: https://masienda.com/products/molcajete