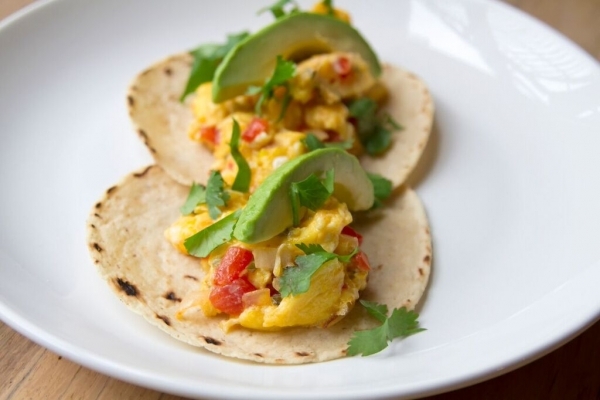 For years I never thought of this as a taco filling, though I've always scooped some into a warm tortilla, spooned on salsa and taken a bite in traditional taco form. For me, it was always just a quick meal until I discovered all the beautiful variations on tacos of huevos a la mexicana in Austin, Texas, where they're simply called "breakfast tacos." I encourage you, however, to think of them at any time of day. The fat and fire are important: for the best flavor, choose a flavorful fat and a heat hot enough to brown the vegetables.
Ingredients
8

large

eggs

1

scant teaspoon

salt

3

tablespoons

vegetable or olive oil, bacon drippings or fresh-rendered pork lard

Fresh hot green chiles (start with 2 serranos or 1 jalapeño), stemmed, seeded if you wish and finely chopped

1

small

white onion, chopped into ¼-inch pieces

1

medium-large

ripe tomato, cored and cut into about ¼-inch pieces

1

large ripe

avocado, cut in half, pitted, flesh scooped from shell and sliced

handful

cilantro either chopped or in leaves

bottle

Pretty much any salsa or Mexican hot sauce
Instructions
Beat the Eggs.  Crack the eggs into a medium bowl, add the salt and whisk just enough to roughly combine the yolks and whites.
Sear the vegetables.  Heat the oil, drippings or lard in a large (10-inch, preferably non-stick or seasoned cast iron) over medium-high.  When hot, add the chopped chile, onion and tomato and stir until the onion begins to brown and any exuded tomato liquid has evaporated.
Scramble the eggs and serve. You have to make a choice:  either turn down the heat, add the eggs and scramble them slowly to a creamy doneness, or keep the heat on medium-high, add the eggs and scramble them quickly to a fluffy doneness.  Serve in warm tortillas with a slice of avocado and a sprinkling of cilantro on each one.  Pass the salsa or hot sauce for everyone to add al gusto.
Playing around:  It's easy to go hog wild with these "breakfast" tacos.  You can mash up this recipe with the potatoes and chorizo, adding tomato and green chile along with the potatoes (or instead of the potatoes), then scrambling in the eggs at the end.  You can crumble crispy bacon into the eggs as they are cooking.  You can replace corn tortillas with flour ones (more in the Austin tradition) and serve these with grated melting cheese (either stirred in at the last moment or sprinkled on top).  Some like to sprinkle fresco or añejo cheese over the eggs.  And this can always be transformed into machacado con huevo, a traditional northern Mexican preparation in which finely shredded dried beef jerky is cooked in the oil until nearly crispy, then the vegetables are added and cooked down before scrambling in the eggs.