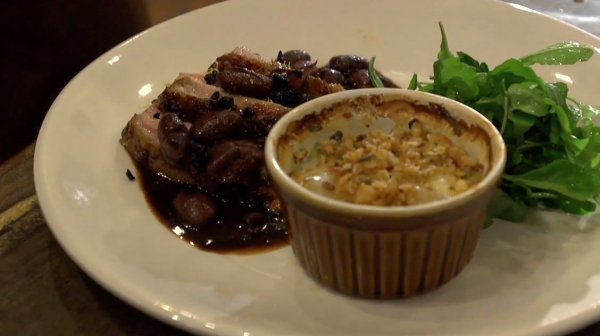 From Season 8  Mexico - One Plate at a Time
Ingredients
12 (about 4 ounces total)

dried pasilla chiles,

stemmed, seeded and torn into flat pieces

1

head

garlic, broken apart, leaving the cloves unpeeled

1/8

teaspoon

cumin, preferably freshly ground

1/2

teaspoon

dried oregano, preferably Mexican

1/2

teaspoon

whole black peppercorns, preferably freshly ground

2

cups

pitted Kalamata black olives, divided use

4

tablespoons

olive oil, divided use

1

cup

fruity red wine

4

ounces

piloncillo

or 2/3 cup dark brown sugar

1

6 to 7 pound

boneless leg of lamb

Zest of two lemons
Instructions
1.  Make the sauce base.  Toast the chile pieces a few at a time on a dry heavy skillet or griddle heated over medium, pressing them down firmly with a metal spatula until they release a toasty aroma, about 10 seconds per side.  Flip them, and toast the other side.  Scoop the chiles into a small bowl, cover with hot tap water and let rehydrate 30 minutes, stirring frequently to ensure even soaking.  Drain, reserving 1 1/2 cups of the soaking liquid.  While the chiles are soaking, roast the unpeeled garlic in the same skillet over medium, turning occasionally, until soft and blackened in spots, about 15 minutes.  Cool and peel.
Scoop the garlic, chiles, spices, 1 cup of the olives, the reserved soaking liquid and 1/2 cup cold water into a food processor or blender.  Blend to a smooth puree, scraping down the sides frequently.  Press through a medium-mesh strainer into a bowl.
2.  Finish the sauce.  In a large medium (4-quart ) stockpot or Dutch oven, measure in 2 tablespoons of theolive oiland set over medium heat.  When the oil is hot, quickly pour in the chile puree.  It should sizzle sharply, and if the pan is sufficiently hot, the mixture should immediately boil and remain at a boil.  Stir until the chile puree is reduced to the consistency of tomato paste, about 8 minutes.  Add the wine, 1/2 cup water and 1/2 teaspoon salt.  Reduce the heat to low and simmer for 45 minutes.  Taste and add more salt, if necessary.  Add the piloncillo or brown sugar and stir until dissolved.  Keep warm until you're ready to serve.
3.  Roast the lamb.  Heat the oven to 425 degrees.  On rimmed baking sheet, lay the lamb in a single layer.  Brush both sides  with the remaining 2 tablespoons olive oiland season generously with salt.  Bake for 45 minutes (or until the internal temperature reaches 110 degrees), remove from the oven and brush  3/4 cup of the sauce over the lamb as a glaze.  Return to the oven and continue roasting for another 10 minutes to set the glaze (or until the internal temperature reaches 125 degrees).  Remove from the oven and  let the lamb stand for 10 minutes.
4.  Serve.  Once the meat has rested, carve into 1/2-inch thick slices.  Add enough water to the sauce until it's the consistency of a light cream soup.  Ladle the sauce onto each of eight warm dinner plates.  Place 3 slices of lamb on the sauce.  Sprinkle each serving with the remaining black olives and lemon zest.  Serve immediately.