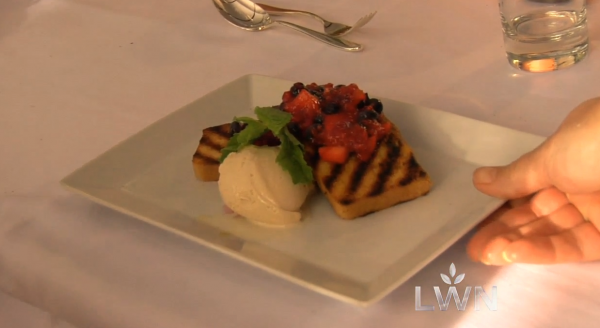 Recipe from Season 6, Mexico—One Plate at a Time
Ingredients
1 1/4

cups

all purpose flour plus extra to coat pan

3/4

cup

yellow cornmeal (don't pack)

1/2

teaspoon

salt

1 1/2

teaspoons

baking powder

1/3

cup

buttermilk

4

large

eggs plus 1 egg yolk

1

tablespoon

vanilla extract,

preferably Mexican

1 1/2

sticks

butter, softened (12 tablespoons) plus extra to coat pan

1

cup

sugar

Finely grated zest (colored rind only) of 1 orange
Instructions
Generously butter a 9 x 5 or 8 x 4 loaf pan. Line the bottom with a piece of parchment paper and butter the parchment paper. Dust with flour, then tip the pan, tapping on the side of the counter several times, to evenly distribute the flour over the bottom and sides; shake out any flour that doesn't stick. Turn on the oven to 350 degrees and adjust the rack to the middle level.
In a medium bowl, whisk together the flour, cornmeal, salt and baking powder. In a separate bowl, whisk together the buttermilk, eggs, egg yolk and vanilla. In the bowl of your electric mixer, combine the butter and sugar, and beat on medium speed until fluffy and lighter in color (use the flat beater if you have an option). Add 1/3 of the dry ingredients. When incorporated, pour in 1/3 of the wet ingredients. Continue alternating dry and wet ingredients, letting one become incorporated before adding the next. Scrape down the sides and bottom of the bowl, then beat on medium high speed for about a minute. Stir in the orange zest.
Pour the batter into the prepared pan, smoothing the top. Set in the middle of the oven and bake until a toothpick inserted into the center comes out nearly clean, 45 to 50 minutes. Cool for 15 minutes, run a knife around the edges, then turn out onto a large flat plate and allow to cool completely. For easiest slicing, refrigerate the cake until completely cold.
Turn on a gas grill to medium or light a charcoal grill and let the coals burn until medium hot and covered with white ash. Cut the cake into 1/2-inch slices. A couple of pieces at a time, grill the cake on both sides. Serve warm—with ice cream, berries, whipped sour cream, cajeta (goat milk caramel) drizzle, chocolate … whatever's in the cards.