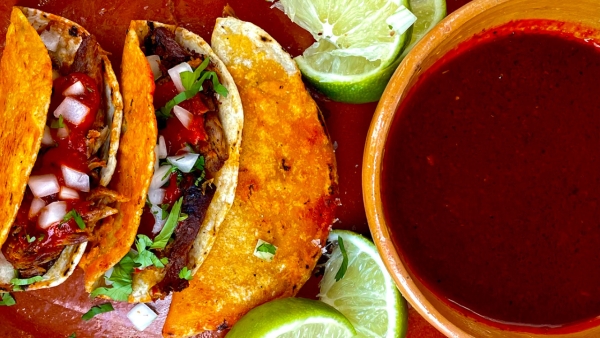 Birria has been having a moment for some time now, especially birria tacos with melted cheese, the ones called quesabirria. I have nothing against them, though I think they've started to eclipse the essentially perfect taco de birria, slightly obscuring that perfection with cheese. Those words, I know, are fighting words for some of you. So don't get me wrong: I love melted cheese—I do! It's just that sometimes birria wants to do a one man show—juicy-tender goat or lamb braised with red chile, browned a little, wrapped in a tortilla that's rubbed with chile-infused fat and allowed to crisp a little on the griddle. The taco gets a splash of the braising juices, some onions and cilantro, maybe a little spicy arbol salsa. One bite of a perfectly made taco de birria and you've reached taco nirvana. Now to nuts and bolts: This version, which I've made for years after learning it from a market vendor in Guadalajara, I've set up as a classic braise in a Dutch oven. In Guadalajara, the vendor used a special oven that trapped in steam. I've read recipes that encourage the cook to trap that steam in a home kitchen by sealing the lid to the pot with a rolled rope of corn masa. I haven't found that necessary, especially since you need the braising juices to be concentrated anyway. Yes, you can use a slow cooker, so I've included directions here as well. Goat is very common for birria, but lamb works well and is easier to come by. Some people in Mexico advocate using beef chuck or short rib.
Servings:
4
cups coarsely shredded meat, enough for about 16 tacos
Ingredients
12

large

(about 3 ounces total) dried guajillo chiles, stemmed, seeded and torn into flat pieces

6

garlic cloves, unpeeled

A scant ½ teaspoon cumin (preferably freshly ground)

1/2

teaspoon

black pepper (preferably freshly ground)

1

teaspoon

oregano (preferably Mexican)

3

tablespoons

vinegar (cider vinegar is common in Mexico)

Salt and a little sugar

A meaty 4-pound bone-in piece of young goat, preferably from fore- or hind-quarter (shoulder or leg) OR 3-pound bone-in lamb shoulder roast OR a 3-pound bone-in beef chuck roast OR a generous 3 pounds of bone-in short ribs (English—not flanken—cut)

16

warm corn tortillas

About 2/3

cup

chopped white or red onion, rinsed under cold water

About 1/3

cup

chopped cilantro

2

limes, cut into wedges

Bold Red Chile Salsa or Mexican hot sauce
Instructions
Make the marinade.  In a large (10-inch) skillet over medium heat, toast the chiles a few at a time, using a metal spatula to press them flat against the hot surface until they change color slightly and release their aroma, then flipping and toasting the other side.  Collect the toasted chiles in a bowl, cover with hot tap water, weight with a plate to keep them submerged and rehydrate for 20 to 30 minutes.  While the chiles are soaking, toast the garlic in the skillet over medium heat, turning occasionally until soft and blackened in spots, 10 to 15 minutes.  Cool and peel.  
Drain the chiles, reserving about a cup of the soaking liquid. In a blender or food processor, combine the chiles, reserved liquid, peeled garlic, cumin, pepper, oregano and vinegar.  Process until smooth.  Taste and season highly with salt, usually a generous teaspoon, and just enough sugar to bring out the fruitiness of the chiles. 
Cook the birria.  To cook the birria in the oven, turn on the oven to 325 degrees and position the rack one-third up from the bottom.  You need a 6-quart pot or Dutch oven with a tight-fitting lid. Lay the meat in the pot (if the goat is too big, use a cleaver to cut it in half), pour the marinade evenly over it, then pour 4 cups water around the meat. Set the lid in place and cook for 3 hours.  To cook the birria in a 6-quart slow-cooker, follow the directions above, but reduce the amount of water to 1 cup.  Cook on high for 6 hours.  
Finish the birria.  Use tongs to carefully pull out the meat, laying the pieces on a plate or rimmed baking sheet.  Carefully spoon off all the fat into a bowl.  Measure the braising liquid. If it's more than 2 cups, set the pot or Dutch oven over medium-high heat and briskly simmer the delicious broth until reduced to that quantity.  Taste and season with salt, usually about 1 ½ teaspoons. Pull the meat into large shreds.  
Make tacos.  To have the full birria taco experience, you need to work on a large griddle—the kind that covers 2 burners.  Set it over medium to medium-high heat.  In a very large (12-inch) skillet over medium-high heat, pour in just enough of the reserved fat to coat the bottom.  Add the meat and let cook undisturbed until it just begins to brown underneath. Stir to bring uncrusted meat in contact with the skillet, then reduce the heat to its lowest setting.  On the griddle lay out a single layer of 4 to 6 tortillas, first dipping each one about 1/3 into the reserved fat, then rubbing the torilla around on the griddle to ensure that its entire bottom is lightly coated with fat. Top them with some of the meat, splash with a little of the reduced broth, sprinkle with onions and cilantro, and sprinkle with a little salt.  When the tortilla just starts to brown a little and crisp (don't wait too long), fold them over and transfer to a warm plate.  
Serve the tacos.  Serve your just-made tacos with lime wedges and salsa, plus, if you wish, a small cup of the reduced broth for your guests to dip into.