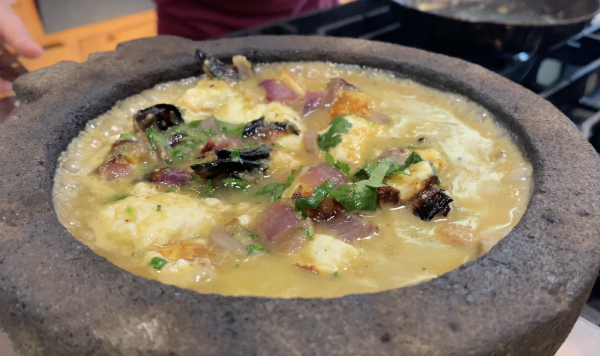 Mexico loves its fresh cheese—cheese that captures the essence of fresh milk, like the best fresh mozzarella I've tasted in Italy. Though the category may sound a little unfamiliar, we certainly know fresh goat cheese, ricotta, Indian paneer and crumbly fresh feta. Mexico's fresco cheese and panela fall into that category, as does Italy's fresh mozzarella, the one typically sold in packed in water. These aren't melting cheeses. Though they soften a little when heated, the fact that they don't go all ooey-gooey (because of the way they're made) means most are candidates for browning in a hot pan, dousing with salsa and serving with hot tortillas. Seared fresh cheese is a popular dish in Oaxaca for the mid-morning breakfast called almuerzo and for an appetizer or snack in central and west-central Mexico, where it's often served in a hot molcajete (stone mortar). I've written this recipe for panela cheese, which is very abundant in west-central Mexico. In Oaxacan they use fresco. Feel free to use either, or paneer, haloumi or mild feta.
Servings:
3
cups, enough for 12 tacos
Ingredients
1/2

pound

(about 4 medium) tomatillos, husked and rinsed

1

medium

white or red onion, sliced into ½-inch rounds

3

garlic cloves, unpeeled

Hot green chiles to taste (roughly 1 large serrano or 1 small jalapeño), stem broken off

Salt and sugar

2

tablespoons

vegetable or olive oil

12

ounces

panela cheese, fresh cheese or a mixture of the two, cut into 1/2 inch cubes—you'll have 3 loosely packed cups (available in Mexican groceries)

A big handful of cilantro, chopped

12

warm corn tortillas
Instructions
Make the salsa. Heat the broiler and position the rack as close to the elements as possible.  On a rimmed baking sheet, lay out the tomatillos, onion rounds, unpeeled garlic and green chiles.  Slide in to the oven and roast until the tomatillos are blotchy black, about 6 minutes, then flip everything over and roast the other side. (Watch the garlic and chile; they may be done before the tomatillos and onion.) Remove from the broiler.  Remove the onion slices to a cutting board.  Pull the papery skins off the garlic and put them in a blender or food processor.  Scrape the tomatillos (and any juices) and chile along with ½ cup water in with the garlic and process to a coarse puree.  Taste and season with salt, usually a generous 1⁄2 teaspoon, and, to balance the natural acidity of the tomatillos, a big pinch of sugar. Chop the onion into ½-inch bits.  
Finish the dish. Set a 10-inch skillet over medium heat and add the oil. Pat the cheese dry between paper towels and lay it into the hot oil in an uncrowded single layer.  When crusty-brown underneath, scrape it free with a metal spatula and turn over to brown another side.  When the cheese is browned on two sides, scatter the onions over the top, then drizzle on the salsa.  When the salsa comes to a full boil, sprinkle with the cilantro and gently stir everything together.  Serve right away with warm tortillas for everyone to make tacos. 
A serving note: While you can scrape this delicious preparation into a bowl for serving (or simply serve it from the skillet), in west-central Mexico, restaurants often serve it in a hot molcajete (the lava rock mortar that is common in Mexico).  When that's my plan, I heat my molcajete by flipping it  upside down over a medium-low gas flame while I'm making the dish or heating it in a 400-degree oven for 45 minutes to an hour. It's a dramatic, bubbling presentation that keeps the dish hot for a long time.