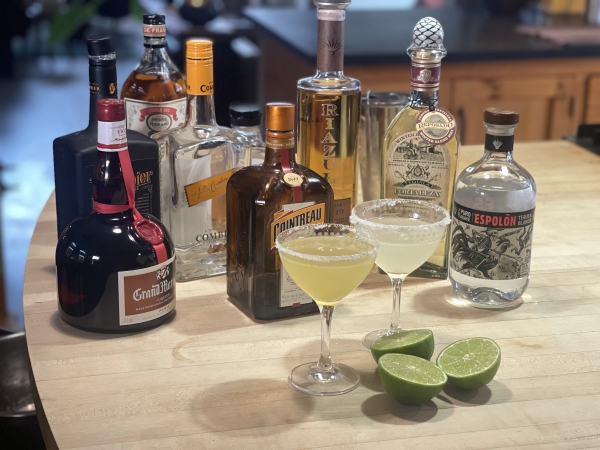 There's really no trick to making a great margarita. The classic technique is a time-honored one. You just have to understand which ingredients to use for your perfect drink. Like all drinks in the "sour" category (think whisky sour, pisco sour, traditional daiquiri, sidecar), the classic margarita follows well-known proportions: 1 ½ to 2 ounces of the base spirit (tequila), about 1 ounce of something sour (lime juice here) and about 1 ounce of something sweet (simple syrup, agave syrup or orange liqueur or a combination). If you like a tart drink, you'll go less than an ounce of the sweet stuff; for a sweeter version, use it all or lessen the tangy lime. For the brightest-tasting margarita, choose unaged (silver/blanco) tequila and a clear orange liqueur (Cointreau is the most famous). For a very smooth margarita, choose a slightly aged reposado or a fully aged añejo tequila and a dark (brandy-based) orange liqueur (Grand Marnier is a well-known example). I can only recommend tequila that is 100% agave (the mixtos don't deliver a true tequila flavor), but I choose a mid-priced one for margarita making, not a more expensive, "sipping" quality bottle. The better the bottle of orange liqueur, the better the drink. The low-proof inexpensive triple sec orange liqueurs typically have a fairly washed out flavor. Agave syrup gives a more velvety texture to your margarita than simple syrup, plus it is sweeter than simple syrup that's made from 1:1 proportions (1 cup water, 1 cup sugar). Fresh-squeezed lime juice (juice you squeeze from limes) is the lynch pin of a great margarita. Even the stuff called "fresh squeezed" in the grocery store will make a less than stellar cocktail.
Ingredients
Coarse (kosher)

salt

1 1/2 to 2

ounces

100% agave tequila (blanco for brightness, reposado or añejo for smoothness)

About 1

ounce

fresh-squeezed lime juice (more for a brighter drink, less for a sweeter drink)

About 1/2

ounce

orange liqueur (a clear one for brightness, an amber—brandy-based one—for smoothness)

About 1/2

ounce

simple syrup or agave syrup (use the full amount if you like a sweeter margarita)
Instructions
Spread the salt on a small plate.  Moisten the rim of a 6-ounce martini or coupe glass with the lime wedge and upend the glass onto the salt to crust the rim.  In a cocktail shaker, combine the tequila, lime juice, orange liqueur and syrup.  Fill about 2/3 full with ice.  Cover and shake vigorously until frothy and cold; about 15 seconds is the right amount of time to properly dilute and chill the drink and to create enough tiny shards of ice to float on the finished cocktail, giving it a refreshing appearance.  Strain into the prepared glass and serve right away.