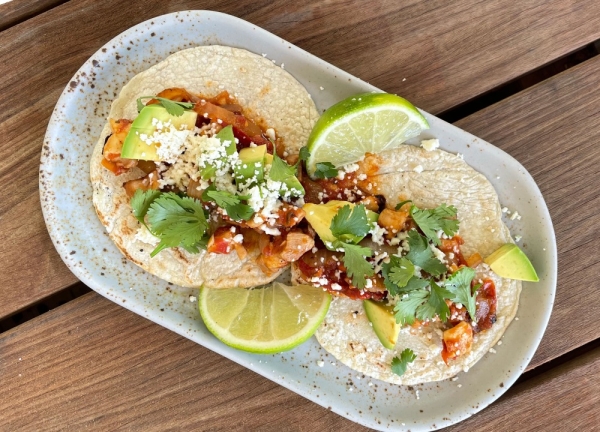 Though pork tinga is the original (and it's typically served as a main dish), chicken tinga has become a street vendor taquero staple beyond its homeland of Puebla. What's not to love: chicken with roasted tomato, caramelized onion and smoky chipotle. In the best places, it's garnished with avocado and fresco cheese, making it a crowd-pleasing combination of flavor and texture. While it's easiest to make this tinga with canned chipotle, I encourage you to try it with the sweet pickled moritas/chipotles for the most dynamic flavor. Plus, a stash of those sweet-sour chiles in the refrigerator will become your secret flavor weapon for other dishes.
Ingredients
For the pickled morita/chipotle chiles:

2

ounces

piloncillo (unrefined sugar) OR a generous ¼ cup dark brown sugar

1/2

cup

vinegar (a fruit one like apple cider vinegar is typical in Mexico), plus more if needed

2

ounces

(18 to 20 pieces) dried morita/chipotle colorado chiles, stemmed

3

garlic

cloves, peeled and halved

Salt

For the tinga:

Vegetable

or

olive oil to coat the pan

1

large

white onion, sliced a little less than ½ thick

1

pound

boneless skinless chicken thighs, cut into half-inch pieces

3

garlic

cloves, peeled and finely chopped

One

15

-ounce can diced tomatoes (preferably fire-roasted), lightly drained

3

to

4 pickled morita/chipotle chiles, thinly sliced, plus some of their pickling liquid OR 3 to 4 canned chilpotle chiles en adobo, thinly sliced

About

1

teaspoon Mexican oregano

A

little

additional vinegar, if you think the dish needs it

12

warm

corn tortillas

1

ripe

avocado

About

3/4

cup (about 3 ounces) Mexican queso fresco or other fresh cheese like farmers cheese, mild feta or fresh goat cheese

A

handful

of cilantro leaves for garnish
Instructions
Make the pickled moritas.  In a small saucepan, combine the piloncillo (or brown sugar), vinegar and ½ cup water.  Bring to a gentle simmer and stir until the piloncillo dissolves. Add the chiles, garlic and ½ teaspoon salt, then simmer for a couple of minutes.  Remove from the heat and cool, weighting the chiles to ensure even hydration.  (If there isn't enough liquid to cover the chiles, add a little additional vinegar and water in equal portions.) After a couple of hours, the chiles are ready to use.  They will keep for months refrigerated in a sealed container. 
Brown the chicken.  Set a very large (12-inch) skillet over medium-high heat and film the bottom liberally with oil.  When hot add the onion.  Stir until it softens and begins to brown, about 4 minutes, then scatter the chicken in the pan in a single layer. Nestle it down to the bottom of the pan so that it will brown.  Cook until everything is richly browned, about 5 to 6 minutes.  Stir in the garlic and cook a minute longer.  
 Finish the dish.  In a blender or food processor, blend the tomatoes and their juice to a very coarse puree.  Add to the browned chicken in the skillet, along with the chiles and oregano.  Reduce the heat to medium-low and simmer until the chicken is tender and the mixture is thick, about 4 minutes.  Taste and season with salt, about 1 teaspoon, and vinegar, if you would like it a little more tangy.
Serve.  Serve your chicken tinga on warm tortillas with a slice of avocado, a sprinkling of fresh cheese (queso fresco) and leaves of cilantro.