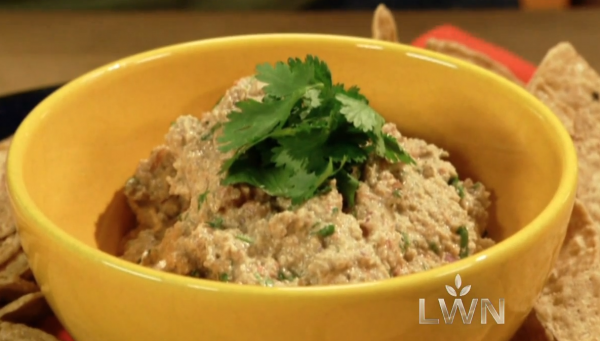 Recipe from Season 5, Mexico—One Plate at a Time
Ingredients
1

cup

pepitas,

hulled (pumpkinseeds)

1/2

medium

red onion, finely chopped

1/4

cup

(loosely packed) cilantro, finely chopped

1

habanero chile,

stemmed, seeded and finely chopped

The juice of 1 lime (or 1/2 sour orange)

Salt
Instructions
Measure the pumpkinseeds into a small saucepan or skillet, set over medium heat and, when the first one pops, stir constantly until all have popped from flat to round, about 5 minutes. Don't let them darken past golden or the dip will taste bitter. Pour into a food processor, let cool, then grind to as smooth a paste as possible, scraping down the sides several times to ensure even grinding.
Spread the tomatoes on a baking sheet and place 4 inches below a very hot broiler. Roast until splotchy-black and thoroughly soft, about 6 minutes per side. Cool. Peel and chop into 1/4-inch pieces.
In a medium bowl, combine the pumpkinseeds, tomatoes, onion, cilantro and half of the chile. Stir in enough lime (or sour orange) juice to give the mixture a dip-like consistency. Taste and season with salt (usually about a scant teaspoon) and more habanero if you wish.