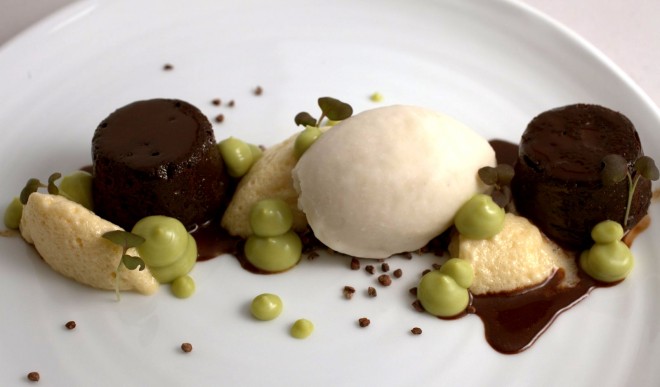 The Chicago Tribune dropped by Topolobampo to try our Mexico City, 1491 menu, and they had some pretty nice things to say about it. The mere fact that we would put together a tasting menu with pre-Columbian ingredients is "as appealing in its boldness as it is in its scholarship," Phil Vettel writes. He goes on to write that "if the challenge is dealing with what has been taken away, the triumph is enjoying that which remains."
Vettel calls our king crab soup "lovely," and when it comes to our slow-cooked rabbit he says "I could eat this stuff all day." He calls our venison "triumphant" and notes that "from the premier-cru Champagne that accompanies the ceviche to the concluding vin santo with the chocolate cake, every [wine pairing] is spot on."  And he is especially effusive about the desserts.
"What pastry chef Jennifer Jones is doing for dessert — absent sugar, flour and butter — is nothing short of alchemy," he writes. He calls the chocolate cake with coconut espuma "astonishing," and goes on to make a plea: "I can only hope that it remains on the regular menu for a long time to come."
We'll see what we can do, Phil. In the meantime, thanks for the kind words!