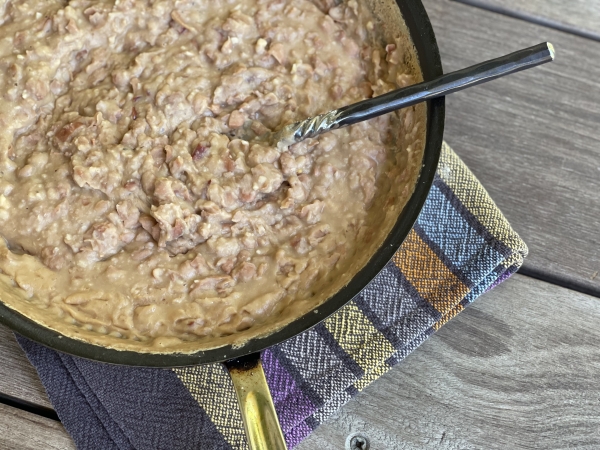 Servings:
3
cups, serving 6
Ingredients
2

tablespoons off the top of

Roasted Garlic Mojo

2

arbol chiles, stemmed and cut crosswise into ¼-inch pieces

Two

15-ounce

cans pinto beans, undrained

2

tablespoons roasted garlic solids from

Roasted Garlic Mojo

Salt
Instructions
Spoon the oil into a large (10-inch) skillet and set over medium heat.  When hot, add the arbol chile pieces and stir until fragrant, about 30 seconds.  Add the beans and use an old-fashioned potato masher or the back of a large spoon to mash the beans into a coarse puree.  Stir in the garlic solids and simmer briskly until thickened to the consistency of soft mashed potatoes.  Taste and season with salt, usually a generous teaspoon, depending on the saltiness of the canned beans.  The beans are ready to serve.  
NOTE: the beans will thicken as they sit and cool off, so if not serving right away you'll likely need to add a little water to get them back to the soft-mashed-potato consistency.