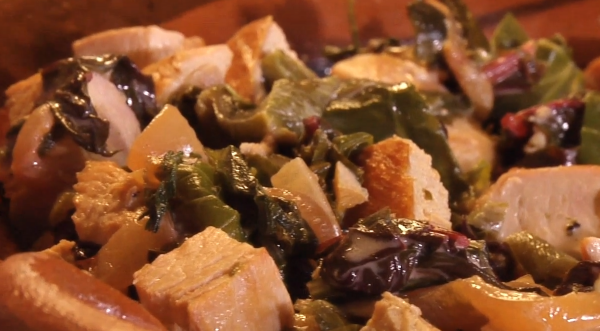 This luxurious taco filling can just as easily be scooped onto tostadas.

Recipe from Season 7, Mexico—One Plate at a Time
Servings:
4
cups, serving 8 to 10 as a soft taco filling or tostada
Ingredients
3

tablespoons

olive or vegetable oil, plus a little more if needed

3

medium (about 1 1/4 pounds)

boneless, skinless chicken breast halves

Salt

1

medium

white onion, sliced 1/4-inch thick

3

garlic cloves, peeled and finely chopped

5

cups

(lightly packed) coarsely chopped, stemmed greens you'll need about 6 ounces spinach, 4 1/2 ounces Swiss chard, 3 ounces wild lamb's quarters (quelites)

1

cup

chicken stock

A

little

fresh thyme, if you have it

1

cup

Mexican crema,

crème fraiche or heavy (whipping) cream

Tortillas, for serving
Instructions
Roast the poblanos directly over an open flame or 4 inches below a broiler, turning regularly until blistered and blackened all over, about 5 minutes for a flame, about 10 minutes for the broiler. Cover with a kitchen towel and cool until handleable. Rub off the blackened skin, then pull out the stem and seed pod. Briefly rinse to remove any stray seeds or bits of skin. Slice 1/4- inch thick.
In a large skillet, heat the oil over medium-high. Generously sprinkle the chicken breasts with salt on both sides and lay them into the pan in a single layer. When browned underneath, about 4 minutes, flip them over and reduce the heat to medium. Cook on the other side until browned and medium-rare (a little slit in the thickest part will reveal a rosy interior), 5 or 6 minutes more. Transfer to a plate.
To the skillet (still over medium heat), add the onion. If there isn't enough oil to lightly coat the onion, add a little more. Cook, stirring regularly, until richly browned and sweet, 8 or 9 minutes.
Meanwhile, cut the chicken into 1/2-inch cubes. Add the garlic to the skillet and cook 1 minute, then add the greens, broth and thyme (if you have it). Raise the temperature to medium high. Cook until the liquid is nearly gone and the greens are almost tender, about 5 minutes. Add the cream and cook until it is noticeably thicker (it'll be a rich glaze) and the greens are fully tender, about 5 minutes more.
Taste and season the mixture in the skillet with salt, usually 1/4 teaspoon. Stir in the chicken and poblano, let heat through for a minute to two, scoop into a serving bowl, and serve with warm tortillas.